We spoke—and the governor listened.
This week, Gov. Brown's office announced that he'd scaled back one of the most onerous facets of his "realignment" plan to erase the state's $26 billion deficit. Responding to concerns and criticisms of county leaders and law enforcement officials across the state, Brown significantly shrank the numbers of state prisoners and parolees he'd planned on putting under the management of California's counties.
And that's good news for a couple reasons.
First, our local criminal system already is bursting at the seams. Our jails are overcrowded and we simply don't have the kind of staffing—or the money—needed to supervise the huge numbers of parolees with which the governor wanted to saddle us. The Board of Supervisors, Sheriff Lee Baca and District Atty. Steve Cooley had made this abundantly clear to Sacramento.
And second, Brown's concession shows he's willing to compromise in the face of compelling evidence—a refreshing development in an age of political brinksmanship. His change of course suggests that his overtures to us are sincerely intended to ensure that his budget plan doesn't just undermine another branch of government—in our case, L.A. County.
Still, this is just a beginning. The governor's budget remains a work in progress. And with the clock ticking, there are a number of other areas that must be addressed immediately.
Of particular concern is the question of how Brown's realigned services would be funded down the road. Under his current plan, he's banking on the public to pick up the tab for five years by voting to approve $5.9 billion in tax extensions. But what happens after that, assuming voters even get on board?
Currently, there are no airtight guarantees that the state's counties would get the necessary funding for such realigned programs as foster care, substance abuse, mental health, adult parole and the incarceration of inmates formerly held in state prisons. Along these same lines, there also are no protections for counties should they face rising costs for new or unanticipated federal program requirements.
My colleagues and I believe that only a constitutionally-guaranteed stream of revenue can ensure that these programs do not break the county's bank in five years when the voter-approved tax extensions would be set to expire. Although the Brown Administration has drafted language for a constitutional amendment, it remains thin on details, failing to provide the kind of certainties needed by the state's counties. We're currently in talks to remedy this situation.
I appreciate the enormity of the fiscal challenges inherited by Gov. Brown, and I applaud his focus in confronting them. I know that this business of slashing California's crippling shortfall is a serious one, with impacts that will be felt for years to come.
That's why it's essential we do not replace old problems with new ones.
Posted 3/2/11
The Assembly Budget Committee held a special hearing in Los Angeles Friday on a key facet of Gov. Brown's plan to eliminate California's crippling deficit. Here is the testimony I provided on the governor's "realignment" proposal.
***
Welcome to our Hall of Administration and our board room, and we thank you for undertaking this hearing to discuss an issue that has our county and counties throughout the state extremely concerned. That issue is "realignment."
We recognize that the State of California has a budgetary tiger by the tail in the $28 billion deficit it faces.  All of us appreciate the challenges being faced, and all of us welcome the Governor's candid and transparent discussion of the magnitude of the crisis and its implications for the future.  Los Angeles County—which, by all accounts, has managed its fiscal affairs as prudently as any major local government in California—understands what it takes to balance a budget.
Our County has publicly and privately conveyed to State officials, including the Governor himself, that as distasteful as the proposed cuts are, we are prepared to equitably share in the burden of those cuts—or, more appropriately, to ask the citizens who rely on county services to share in the burden of those cuts. The $12.5 billion in cuts will fall very heavily on human services, and California counties are the primary deliverer of such services in the State. We are anxious and prepared to work with both the Governor and the Legislature to help address this crisis.
Realignment is another matter, however. While we are prepared to work with the State on creating a realignment proposal that works for both of us, realignment is one of those concepts that sounds great in theory, but hasn't always and won't always work out in practice. The devil is always in the details. You certainly understand our wariness.
To put it simply:  If the state proposes to save money by shifting both program responsibilities and the funding for them to counties, where will the savings be? Can it really be that local governments are so much more efficient that citizens will receive the same or higher levels of public service at substantially reduced cost?
If we are not careful, realignment will be less a swap of services and revenues to pay for them, and more a dumping of costly criminal justice and human services from the State's books to the county's books, the end result of which will be only to shift the huge deficits that the State has been incurring to counties which can afford them even less.
Proponents of realignment argue that it will restore power, flexibility and discretion to counties over their own finances. They assert that local governments and their constituencies will be free to choose whether to fund existing programs. This is simply not true. Most health and human service programs and their funding levels are already set by federal and state law for counties to administer with little or no discretion. Unless these constraints are lifted, this principal benefit of realignment will never be realized. And, lifting those constraints opens up an entirely different kind of debate over the equity and adequacy of the services that counties provide.
As to control over our own finances—this, too, is not true. Proposition 13 severely limited local governments' ability to generate revenue by rolling back and capping local property assessments and tax rates. The problem has only grown more acute in the ensuing decades as the Legislature and voters have imposed new constraints and restrictions, most recently in adopting Proposition 26 last November, which sharply limits local fees. Any suggestion that Counties will have the ability to raise taxes or fees for services we may choose to provide—above what the state pays us for—is simply disingenuous.
To pay for realignment, the Governor has proposed a five-year extension of expiring tax revenues, subject to voter approval (and it is not clear that these revenues will be sufficient to pay for realignment). When asked what would happen in Year 6, the Governor said he's hoping the economy will bounce back by then. Revenues fluctuate, and in fact, it's a rule we all live by in government that during an economic downturn, when our people need services most, we have the fewest resources available to us. Hoping the economy will turn around in five years is simply not enough—we need a permanent, dedicated and stable revenue source if we are to take over these programs.
Let's walk through a couple of examples. The realignment proposal calls on counties to take responsibility for jailing state parole violators and so-called "low level offenders." As you know, Los Angeles County's jails are overcrowded now. A federal judge has been breathing down our neck to deal with this persistent constitutional problem. There is simply no capacity to house state inmates without having to release county prisoners to the streets of our communities.  Moreover, even if we did have the capacity, what makes the State think that we can absorb the cost of this added burden when the State can't handle it now? It simply looks like shifting a bad debt from the State's books to the counties' books.
Another criminal justice proposal is to have probation take over the supervision of some parolees. Our staffing requirements for such a shift could be as high as at least 600 persons. Is the State prepared to pay us dollar for dollar what it will cost us to take over this job? Keep in mind that your parole officers are public safety officers who are entitled to a public safety pension. Our Probation officers are not. Even worse, in its infinite wisdom, the State gave its parole officers the 3% at 50 pension benefit which is breaking the back of many pension systems around the state.  We did not. Are we expected to hire the state's parole officers to handle this new responsibility at salaries and pensions that we don't currently provide our own employees? As our District Attorney recently wrote, the budget proposal in the area of Corrections and Rehabilitation "will wreak havoc on Los Angeles County's criminal justice system."
Of the programs being proposed for Realignment, the biggest one in dollar terms is Foster Care and Child Welfare Services. Foster Care is a federal entitlement that requires us to provide services no matter how high the caseload. As you know, we are currently operating under a carefully negotiated waiver that provides not only a growth factor, but also flexibility on how to spend funds. Our CEO estimates that we would receive a fixed annual amount of $557 million to administer these programs. However, caseloads won't remain fixed. It doesn't take a mathematician to realize that rising caseloads with no growth factor for a program of this magnitude is a recipe for disaster. As it is, since the 1991 Realignment, we have absorbed significant cost increases in these programs due to unanticipated Federal licensing and monitoring requirements.
Where do we go from here? I have an abiding concern that the realignment proposals are not fully baked. To approve these proposals in the next 30 days, when consensus has not developed around them in years, is unrealistic and dangerous. Doing so will inevitably lead to a plethora of unintended consequences that will largely fall on us, not on the State.
The three basic principles that should guide us any realignment scheme going forward are: counties should not be net revenue losers; it should accurately and thoroughly scope out the current costs of each programmatic shift; and it should constitutionally guarantee a revenue stream that is sufficient to sustain the programmatic shift, not only for the next five years, but beyond, when the temporary taxes, if approved by the voters, expire. Anything short of that would wrap a millstone of fiscal insolvency around the necks of every one of California's 58 counties.
Posted 2/4/11
For more than a decade, Los Angeles County's point man in Sacramento has been one of the oldest hands in the state capitol. When Dan Wall announced his retirement late last year as the top lobbyist for the county, he was capping a 37-year resume that dates to Ronald Reagan's gubernatorial administration. Wall isn't joking when he says he's been lobbying since the first time Jerry Brown was governor.
So filling his shoes was no easy task, says Assistant Chief Executive Officer Ryan Alsop. "We searched for months and months."  And Alsop found his man just in time for a budget season that promises to be of historic importance.
Alan Fernandes, come on down.
Fernandes, a 36-year-old lawyer and father of two from Davis, comes to the county from the well-known Sacramento law firm of Nielsen, Merksamer, where he has represented public sector clients for nearly 10 years.
With a bachelor's degree in political science from UC Davis and his law degree from the McGeorge School of Law at University of the Pacific, he is currently the lobbyist for San Diego, Riverside, Contra Costa and Marin counties. He also has served on the Business and Economic Development Commission for the City of Davis, where he not only helped turn the city's collection of rare and antique bicycles into the California Bicycle Museum, but also helped the city land the formerly New Jersey-based U.S. Bicycling Hall of Fame.
"Alan will be a great asset to the county in Sacramento," said Alsop, who lauded Fernandes' "honesty, knowledge, great work ethic and communications skill."
 And he's going to need every ounce of that talent.
With California facing a $25.4 billion budget gap, Gov. Jerry Brown has proposed transferring the cost of many services from the state government to the counties, offering local governments more autonomy, but also potentially leaving them with much greater financial obligations that might not be underwritten in the long term.
Los Angeles County, for example, has estimated that Brown's realignment plan could force it to absorb many millions of dollars in new costs and overwhelm the county's already over-crowded jail system.
"I think we're at a point where the restructuring of the state and local relationship is needed," Fernandes said, speaking by phone between capitol meetings. "If it's done right, it can actually serve the residents of California a lot better. But if done wrong, it could actually set us back even further—if that's even imaginable."
Fernandes called the most recent election "one of the most important in California since Proposition 13. "The results are going to put us in situations via realignment that could restructure government," he said. "I applied for this job because I want to be a part of that."
But, he added, he also applied because Los Angeles County is in a class by itself as a player in Sacramento. "Los Angeles is a third of the state, at least."
That's high praise coming from a Northern Californian. In the interest of full disclosure, however, Fernandes did admit one potentially serious conflict:
"I'm going to be completely up-front," he confessed, laughing. "I'm a big San Francisco Giants fan."
The appointment to the $175,000 a year post is expected to become official on February 10. After a transitional period, Wall, 64, will finally retire.
"I have projects," said Wall, who, in true county fashion, lives in unincorporated Sacramento County. "I have a 1961 Triumph TR 3, a little red sports car, and I'm going to put that in working order. I'm going to do a little wine cellar at home because I like wine. I want to play the guitar. And we want to go to Italy, my wife and I. I think after 37 years working in this process, it's time for a little change of view."
Crunching the numbers in Gov. Jerry Brown's proposed budget, Los Angeles County officials are bracing for deep cuts in services and potentially many millions of dollars in less visible costs.
An executive summary of the potential impacts shows that a $1.5 billion statewide cut in the CalWorks welfare program could trim the program by $450 million in Los Angeles County, spelling the loss of benefits for some 37,000 families here. That, in turn, could create new demands on the county's general relief program, leading to additional costs in an already strained county budget.
Meanwhile, the county Department of Health Services stands to lose some $20 million if a proposed $1.7 billion in cuts, including reductions in payments to providers, are made to the state's Medi-Cal program. Those cuts would pose challenges for the county's perennially deficit-plagued health department budget and contribute to "some serious problems in our provision of health care here in L.A. County," Chief Executive Officer William T Fujioka told supervisors on Tuesday.
The executive summary of potential budget impacts also outlined what's coming the county's way under "realignment," in which responsibility for many programs would shift from the state to the local level.
For one thing, the county's Probation Department would assume responsibility for 30,000 or more "violent and serious" state parolees, including sexual predators, at an additional cost of $185.3 million—excluding the cost of hiring new staff and related expenses, Fujioka said. County jails also would absorb 13,550 convicted felons now in state custody—nonviolent offenders without sex crimes convictions—at a potential cost of more than $450 million. Other passed-along expenses would come in areas ranging from child welfare and foster care ($557 million) to court security ($132.5 million.)
"What is of serious concern…is whether or not we have sufficient funding to maintain the current level of services that will be sent from the state," Fujioka told supervisors. "If these services come to us without the necessary revenue, it puts a burden on our already… severely challenged programs and services."
His remarks echoed comments by Supervisors Zev Yaroslavsky and Gloria Molina, whose Op-Ed piece this week in the Los Angeles Times argued for a "financially sustainable" proposal that would allow local governments to help the state through its crisis.
Yaroslavsky was attending a funeral Tuesday morning and did not attend the board meeting. Molina used the occasion to forcefully call on county officials to enter into a true partnership with the state and find constructive ways to achieve the inevitable cuts.
"If you aren't part of the solution then get the hell out of the way," Molina said. "Nobody's going to listen to a bunch of moaners and whiners and we in L.A. County shouldn't do that."
"Crying crocodile tears," she said, "is not going to impress them [in Sacramento]."
The governor's budget hinges on voter approval of a proposed June ballot initiative that would extend a 1% sales tax and a .5% vehicle license fee for five years in order to fund the programs that would become county responsibilities under realignment. At the end of five years, the state would pick up the funding responsibility, according to the county's budget impact report.
But Fujioka told supervisors that passage of the ballot initiatives is far from assured. "Extending the taxes and fees is not a given…That is going to be a very difficult request to get through the state Legislature and also through the electorate."
Supervisor Michael D. Antonovich criticized the governor, arguing that the proposed budget dodged the necessity of reforming state spending patterns.
"There are dollars that are being generated but they're not being allocated to appropriate areas," he said. "And then to get rid of their irresponsibilities by shifting it to the cities and counties without any stable source of long term funding makes no sense."
"I was expecting the governor to be bold in addressing these issues," Antonovich said, "instead of basically doing what Arnold Schwarzenegger had done."
But Molina praised the governor for getting the budget out early and for letting the county—along with all Californians—know how much pain is in store as the state seeks to climb out of a profound economic "ditch."
"The governor has put it squarely in front of us," Molina said. "Here's the numbers. Like 'em or not, they're real."
Posted 1/11/11
When Gov. Arnold Schwarzenegger this month unveiled his admittedly "ugly" spending plan that would slash the safety net for the state's poor, one man understood the implications better than most.
Philip Browning oversees Los Angeles County's Department of Public Social Services, the largest such agency in the nation, serving more than 2 million people. Schwarzenegger's proposed budget takes dead aim at the services his nearly 14,000 employees deliver, including in-home help for the disabled and the state's welfare-to-work program.
Given the opportunity, here's what Browning would respectfully tell the governor. "You need to visit one of our offices. Spend the day with one of our customers. Look at the people affected by your decisions. Until you see and experience their problems, you can't appreciate your impact."
Schwarzenegger, who has vowed not to raise taxes as a way to close California's $20 billion deficit, has presented the legislature with a 2010-2011 budget that is unparalleled in the breadth of its proposed cuts to social programs. The largest single reduction would be the $1.6 billion CalWORKs welfare program, which provides an average of $500 a month to families and requires participants to eventually obtain jobs. Its elimination would make California the only state without a welfare-to-work program for low-income families with children.
Now the budget action will shift to California's deeply partisan legislature, where Republicans have vowed to block tax increases and Democrats have insisted they will not, in the words of Senate leader Darrell Steinberg of Sacramento, "be a party to devastating children and families."
This week, Democrats got ammunition from the non-partisan Legislative Analyst's Office, which said Schwarzenegger's proposed cuts to CalWORKs and other social programs should be rejected in favor of new fees and other less damaging approaches to replenish state coffers that have been drained by the faltering economy.
As Browning knows, the stakes in all of this are extraordinarily high for L.A. County, which is grappling with its own $500-million budget deficit. His department has estimated that if CalWORKs was eliminated, 320,940 children in 167,617 families would lose cash assistance. Financial responsibility then would be shifted to the county's general relief program, costing the county an estimated $452 million annually—if just half of CalWORKs participants were deemed eligible. (Click here for an analysis by the county's Chief Executive Office.)
And the fallout wouldn't end there. More than 4,000 county employees who administer the CalWORKs program would suddenly find themselves without jobs, putting additional strains on county services at a time when CalWORKs' client rolls already have swelled because of the recession. "There are very few empty seats in our waiting rooms," Browning said.
Browning said he drove by one of his agency's offices the other day and saw people lined up in the early morning drizzle. "They were standing out in the cold so they could be first in line to get inside a warm building, where they could apply for a benefit that is meager, at best."
Many of these people, he said, represent the newly needy, who never pictured themselves applying for food stamps or benefits that the governor now wants to end. They've come in such large numbers, Browning said, that some of his front-line workers have had a hard time adjusting. "The workers identify more with participants today than ever before,"
Browning said. He said they tell him: "They look just like me. I feel so bad."
To help them cope, Browning said he created an "emotional well-being class," where workers can share their experiences and find support. He said he also created a "basic finance" class that teaches about "bankruptcy, foreclosure, all the terms that we are having to deal with."
The imperative now, Browning said, is to communicate these realities to Sacramento.
"I have to make the best case possible about how human lives are going to be impacted by the decisions that politicians make in Sacramento," Browning said. "They are far removed from the everyday trials and tribulations of these individuals. Some our legislators have taken the time to go on ride-alongs with us. They've seen the debilitation, they get it. But there are some who we can't get to take that journey with us yet. They're the ones we're trying to show that what we're doing is responsible, accountable and not overly generous."
In recent weeks, he said, the agency has been videotaping people who desperately need the programs that are on the governor's hit list, including In-Home Supportive Services, which has been targeted for significant cuts. The IHSS program pays a worker to provide basic care for qualifying seniors and others with disabilities so they can live independently.
"Without someone to take care of them at home," Browning said, "I'm convinced they'd be institutionalized."
He said the videos—one of an elderly disabled woman, the other of a severely handicapped child—would hopefully be shown during budget deliberations to give legislators a real-life understanding of the issues beyond the statistics.
Still, no matter how effective the strategy, Browning knows that difficult days lie ahead. He believes compromise will be reached in Sacramento to avert the worst-case scenarios but that state government simply has run out of gimmicks to balance the budget.
"All the smoke and mirrors have been used," he said. "I think there are a lot of people who are going to be hurt."
A lifeline for independence
Faced with the prospect of serious cuts to social services in the California budget, the L.A. County Department of Public Social Services has produced two videos showing the crucial role of one endangered program—In-Home Supportive Services, which helps seniors and others with disabling conditions avoid institutionalization.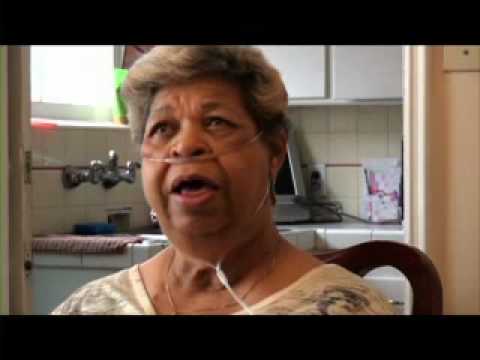 Steve Rosmarin pushed for 20 years to get a state long term care home for veterans built in West Los Angeles.
Now that it's finally scheduled to open this summer, he'd love to be among the first to move in.
Rosmarin, a retired stockbroker and travel agent, is a very unretiring veterans' activist. At 82, he's twice been state commander of the Jewish War Veterans, once in the early 1960s and again in 2007-8. Since 1999, he's served on the county's Veterans Advisory Commission.
Not a bad achievement for a one-time private first class who served in Korea in the early days of the Cold War, hunting for Japanese holdouts and worrying about the Russians north of the 38th parallel. The slight teen carried a BAR, a Browning Automatic Rifle, a powerful weapon that weighed more than 18 pounds. "They liked to give the short guys the big weapons," he explains.
As a veterans' advocate, he has long pushed for advances in education, health care and housing for former military personnel in the Los Angeles area. The housing issue became important to him as he watched as veterans of World War II, Korea and, more recently, Vietnam hit retirement age, and face scarce housing options on fixed incomes.
"We have so many veterans here that are aged and in need of housing and care," he says. "We needed to do something."
In the late '80s, Rosmarin and other advocates figured the best solution was building a state veterans home in L.A, now home to about 400,000 vets. At the time, there was just one state retirement residence for vets operated by the California Department of Veterans Affairs, a large home in the Napa Valley community of Yountville – hundreds of miles away. In the '90s, two new state homes were built, but neither was close to Los Angeles, with its large veteran population.
He lobbied members of Congress, veterans' officials and Sacramento lawmakers to locate a facility on the federal Veterans Affairs campus in Westwood. The area had spare land and proximity to the veterans hospital and the UCLA Medical Center. And, after all, the VA campus had started in the 1880s as the Sawtelle Veterans Home for disabled military men. Locating a facility there meant the vets could more easily stay connected to family and friends.
Their campaign got a big boost when federal Veterans Affairs officials declared California one of two states "in great need" for veterans' housing and required new homes to be built in areas with high concentrations of veterans. The state passed bond funding between 2000 and 2004, and a building plan emerged to construct five new state homes with both state and federal funds—three of them in Los Angeles and Ventura counties.
Rosmarin's key role was evident at the 2007 groundbreaking, when he got the call to introduce Gov. Arnold Schwarzenegger.
The 396-bed Veterans Home of California–West Los Angeles facility will open this summer. The $187- million home will include a residential care wing as well a skilled nursing facility and a "memory care unit" for vets with Alzheimer's or dementia. Two other smaller Southern California facilities–60-unit residences in Lancaster and Ventura–also opened in recent months.
When the application period began last month for the West L.A. home, Rosmarin, who until recently had been living on his own in the San Fernando Valley, quickly put himself in the running. He wants to be closer to his two daughters and his L.A.-area roots in Sherman Oaks and West Hollywood. He moved into the new state veterans' home in Lancaster in the past few weeks—temporarily, he hopes. Widowed three years ago, Rosmarin had wanted to wait until the West L.A. facility opened to make the move, but he had to make the jump early when his doctor recently told him that his health and medication issues meant that he should no longer be living alone.
He's not the only one interested. More than 700 veterans have requested applications to the West L.A. facility, according to spokeswoman Jeanne Bonfilio. Veterans must be California residents, 62 or older and honorably discharged. Disabled vets can be younger. The rent covers room, board and all services. Rates vary, ranging from 55 to 70 % of a veteran's income, depending on the level of care in the facility.
After getting a taste of living in a state home, Rosmarin is an even bigger booster, touting them as clean, well-operated alternatives to costly private sector facilities. "I've visited several [private facilities], and you always get the smell of hospitals and the smell of other things," he says, speaking by phone from what he hopes will be his temporary bivouac in Lancaster. "Here it smells spotless. It's a great thing to see."