Changing of the guard at Watts Towers
Minding a masterpiece isn't easy. The Watts Towers have been among Los Angeles' great public treasures, but their upkeep has been a full-time challenge almost since they were finished in 1954.
Rattled by earthquakes, assaulted by rainstorms, the fantastic, filigreed metropolis erected by an Italian-born amateur stonemason in a South-Central barrio is perpetually in a state of deterioration. The mortar cracks. The tiles are forever falling. The joints are damp with seepage and rusting from within.
Late last month, the Los Angeles County Museum of Art announced plans to lend a hand to the recession-slammed city in ensuring that Simon Rodia's renowned public sculpture is preserved. The art world is applauding the one-year agreement, in which LACMA will contribute expertise, staff and — most crucially — fundraising assistance.
And cheering the loudest are Zuleyma Aguirre and Virginia Kazor.
For some 20 years, Aguirre and Kazor have tended the towers. Before her retirement this summer, Kazor spent 19 years as the historic site curator, managing the conservation effort for the city's cultural affairs department.  Aguirre, her lead conservator, handled all the on-site restoration, tending every inch of concrete, tile and metal until she was sidelined two years ago by an injury on the job.
Together, the two women – one an art historian raised in Los Angeles, the other an El Salvador-born expert in the restoration of pre-Columbian artifacts – have shepherded the landmark through the Los Angeles riots, the Northridge earthquake and countless storms and budget woes. This week, they sat down with ZevWeb to talk about the labor of love that became not only Simon Rodia's life's work, but theirs as well.
"The first time I came to the towers," Aguirre remembers, "it was 1988. They were just – oh! Amazing! Rodia's work made me feel like I really had not done too much in the world."
She had come to the United States in the early '80s on a grant to visit museums, and remained, reluctant to return to her country's civil war. The Watts job became hers after she hired on with a city consultant working on the towers' preservation. The project, she immediately realized, would be like no other.
"I had come from working in museums," she says, "and the towers were just so different. There were no drawings we could find, no blueprints. We had to do X-rays to learn how he did the connections on 5,000 joints."
In 1991, Kazor became Aguirre's supervisor on the project. Already a longtime curator for the city, her relationship with the towers was more than three decades old. As a student in 1958 at the University of Southern California, she had been assigned to report on them by her design teacher.
"I was so fascinated that after that, when I met someone and found him interesting, I'd always take him first to the Watts Towers," she remembers, laughing. "And if — and only if — they liked them, then I'd go out with them."
Then and now, she says, she was moved by the assemblage – a collection of 17 structures, built over 33 years by an eccentric handyman. Constructed by hand out of scraps and castoffs, the towers' famed spires soar up to 99 feet over their impoverished surroundings.
Kazor, who was diagnosed with Parkinson's shortly after being assigned to Rodia's project, connected with the resolve that fueled it: "They're ours and they're absolutely unique. And they are a testament to what one person can accomplish, if they just set their minds to it."
That determination, the women say, was what most impressed them, day after workday.
"Rodia was a common laborer who took part-time jobs," Kazor says, "but he was sort of intuitively brilliant. He took any steel he could find — rebar if it was available, but he'd use water pipe or anything he thought would work.
"And he didn't weld. He overlapped the pieces, wrapped the overlapped portion with wire to hold them together, and then covered that with chicken wire. Then he took a very dry concrete mix — you could pick it up by the handful and it would hold its shape — and he'd press that into the chicken wire. Then he would press into that the decorative elements he had chosen. Seashells or tile or the impression of a tool or broken glass."
But his work didn't end there. "After that, he would have to keep the concrete moist by spraying it with water for more than a week," Kazor says. "And he did this by climbing up the towers as if they were scaffolding. And he would carry on his arm a bucket with whatever materials he needed. And every time he needed more materials, he had to go all the way back down to the ground and then all the way back up again."
Honoring that artistic commitment has required its own brand of determination. After every Santa Ana wind or winter rainstorm, tile and bits of concrete shower from the structures onto the ground. Moisture is a constant challenge.
"Once water gets past the decorative surface and through the concrete, the steel inside it rusts," says Kazor. "And then the rust expands. And the cracks get larger, and more water gets in, and eventually the interior steel structure rusts away."
Part of Aguirre's job, she says, was to walk the site with her crew daily, picking up fragments and carefully documenting where they had fallen and where they belonged.
"Early on in the project, the whole structure was completely photographed, and broken down into a 4-foot grid," says Kazor. "So each worker, every day, would be assigned a certain area, and at the end of the day, record what he did there."
That painstaking documentation, she says, has been the key to FEMA and other grants that have underwritten tower restoration again and again.
The work hasn't always been safe.
"Once," Kazor says, "one of our construction workers was on the scaffolding 40 feet in the air, and an earthquake hit. And he said, 'Please don't fire me, but the scaffolding was shaking so hard, I had to hang onto the tower.' When he looked down, he said, he could see the wave of the earthquake come down the street, lifting the backs of the parked cars."
In fact, Aguirre has been unable to work for more than two years, after having been struck by a piece of scaffolding that damaged two cervical vertebrae in 2008. It was not her first on-the-job injury. In 2001, she says, she was mugged as she arrived for work early one morning, carrying her purse and her laptop.
"This young fellow asked me for the time, and when I didn't know, he went with his fist in my face," Aguirre remembers. The blow broke six of her teeth and severed an artery, and Kazor says Aguirre nearly bled to death before she was found.
Yet for all the challenges, the women say, the towers have been deeply rewarding.
"It's magic there," says Aguirre. "I felt I could hear Rodia's steps some days, when everybody went to lunch and I stayed there alone. From the top, you can see all over the city. It's gorgeous. You have a whole other vision of Watts. Or just sitting there below, looking up. Hearing all the Watts sounds. The neighbor sounds – the rap, the Mexican music, the lambada, the smell of the materials. The mix. Everywhere you look, it is art."
This fragile, unconventional beauty, Kazor says, is why LACMA's involvement is so welcome.
"The city does not really have the resources any more to do what needs to be done," she says, noting that by the time she retired, the manpower the city had committed to the towers had fallen from about 14 full- and part-time workers to two.
"The Watts Towers are as important as any work in a museum. They are like the Eiffel Tower, or the Millennium Wheel in London. They're a great gift to Los Angeles."
Watch this short film on the Towers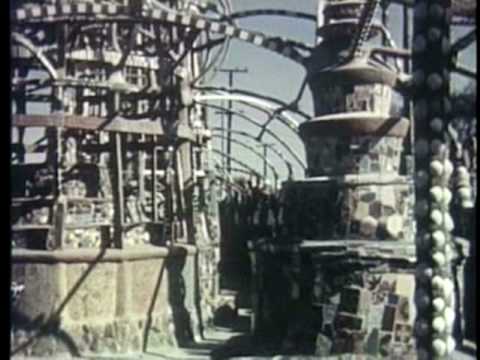 Posted 10/28/10