Top Story: Arts
Get ready, L.A., the space shuttle Endeavour will soon be rolling like a rock star.
On October 12, weather permitting, the decommissioned shuttle will begin a three-day, 12-mile journey from Los Angeles International Airport  to the California Science Center in Exposition Park, the orbiter's new retirement home.
Officials predict that the 2-m.p.h. urban journey will draw thousands of onlookers, reminiscent of the raucous crowds that turned out for The Rock's four-county crawl to the Los Angeles Museum of Art, where it became the centerpiece of artist Michael Heizer's "Levitated Mass." The shuttle's passage will mostly take place along Manchester Avenue, Crenshaw Boulevard and Martin Luther King Boulevard. (See map below.)
Mayor Antonio Villaraigosa, who joined Science Center and NASA officials to announce Endeavour's itinerary, called the upcoming transport a "once-in-a-lifetime event" for the Los Angeles region, which he noted shares a long and storied history with aeronautics and space exploration. Just this week, scientists at JPL in Pasadena made history with the high-risk touch-down of the rover Curiosity on Mars.
In all, Endeavour completed 25 flights, totaling 4,671 Earth orbits. It was built to replace the Challenger, which exploded shortly after takeoff in 1986, claiming the lives of all 7 astronauts. Endeavour flew its final mission to the International Space Station in May of last year. Among the orbiter's final crew was Commander Mike Kelly, whose wife, former Arizona Rep. Gabrielle Giffords was seriously wounded by a gunman last year.
With the 30-year shuttle program now over, Endeavour is one of three shuttles that will go on display around the country, and the first to travel along city streets. The others—Discovery at the Smithsonian outside Washington, D.C. and Atlantis in Florida—have already been delivered.
Endeavor is scheduled to arrive at LAX from Florida's Kennedy Space Center on September 20, riding piggyback on a Boeing 747. That date, however, is dependent on weather conditions, said Stephanie Stilson of NASA, a key player in the transport. "Water drops can become like BB's" on the fragile surface of the 170,000-pound craft, she said.
After the shuttle is removed from its carrier with a series of cranes and slings, it will be placed on the "Overland Transporter," a frame built by NASA for "state of the art maneuverability and stability," according to the agency.
And it'll need it.
Some stretches of the passage to the Science Center are so narrow that some trees may need to be removed to accommodate the craft's 78-foot wingspan. In those cases, two trees will be planted for each one that must be uprooted. Villaraigosa said that, like the shuttle itself, its earth-bound journey will be "a marvel of ingenuity and engineering."
Along the way, on October 13, there'll be an official ceremony at Inglewood City Hall in the morning and a curbside celebration that evening produced by dancer/choreographer Debbie Allen at the intersection of MLK and Crenshaw boulevards.
At the Science Center, the spacecraft initially will be housed in a cavernous temporary hangar, which is scheduled to be open to the public starting October 30 for the exhibition "Mission 26: The Big Endeavor." Eventually, the shuttle will be the centerpiece of the new Samuel Oschin Air and Space Center. The $200 million price for the new center and Endeavour's transport is being underwritten by private donors. 
View Mission 26: The Big Endeavour in a larger map
Posted 8/8/12 
Going to a concert or show may be a spectator sport most of the year, but when the temperatures start climbing, Los Angeles audiences like to get in on the act.
From sing-alongs to outdoor dancing, accordion playing to impromptu Shakespeare, this summer's arts calendar is heavy on audience participation.
"The idea behind it is that audiences are trying to be artists themselves, rather than just sitting in a seat," said Heather Rigby, General Manager of Productions at the John Anson Ford Theatre. "It's also a really good community builder that helps people be able to express themselves."
The Ford's audience participation events, called "J.A.M. Sessions," began in 2008. The sessions allow people to dance and try out new instruments while connecting with artists from diverse cultures. Already this year, crowds have tried their hands (and feet) at Afro-Cuban dance and Japanese Taiko drumming. This Monday, June 25, Otoño Luján and Gee Rabe will share their mastery of the accordion before leading a giant, novice accordion symphony. (Instruments will be provided.)
The J.A.M. Sessions have proven so successful that this year the Ford is taking its show on the road, courtesy of a grant from Metabolic Studios. Starting July 6, road sessions will be held in East L.A., Newhall, San Fernando, Whittier and Willowbrook.
Also at the Ford, the Big!World!Fun! series offers youngsters a chance to try dance and musical styles from cultures worldwide. The events take place Saturday mornings at 10 a.m., beginning July 7.
At the Hollywood Bowl, summer night sing-alongs turn the legendary amphitheatre into something of a karaoke-on-steroids experience, with some of the best-loved musicals of all time projected onto a huge screen with captioned lyrics.
"There is something very unique about a venue that seats 18,000 people and everyone is singing—it's really loud," said Arvind Manocha, the Bowl's chief operating officer. "It is just primordially powerful to hear that many people singing the same thing in one space."
The events, which began in 2001, bring out the dramatic attire as well as the wannabe Broadway divas. Thousands show up decked out in movie-specific costumes, and hundreds take part in the pre-show parade dressed as characters, objects or even ideas from the movies. A package of interactive props is handed out to enhance the fun, à la Rocky Horror Picture Show. And, because it's Hollywood, said Minocha, special guests associated with the movie often show up, like the actors that portrayed the von Trapp children and Didi Conn, who played "Frenchy" in Grease. (This year, Grease will be performed July 14 and The Sound of Music on September 22.)
In downtown L.A., the Walt Disney Concert Hall hosts its own Friday Night Sing-Alongs, which are free to the public. They begin this Friday, June 22, with "Disney Favorites," and continue later this summer with Motown hits and Broadway tunes.
Across the street at the Music Center, the courageous can trade their two left feet for new dance styles at Dance Downtown. Live bands and DJs provide rhythms for the outdoor dance lessons, which are held in the Music Center Plaza. Next Friday, June 29, Dance Downtown features Bollywood dancing. If that's not your speed, the rest of the season has plenty of other options like disco, samba and "60s Night," to name a few.
Over at the Annenberg Beach House in Santa Monica, the "Beach=Culture" series engages the community with its own participatory events. On Tuesday, June 26, enjoy some guerilla Shakespeare with the facility's new resident artists from the Salty Shakespeare Company, who pride themselves on "Erupting, Interrupting, Disturbing the Peace." Guests can try their hand at street theatre and learn the secrets of the group, which employs rap, Parkour (extreme freestyle, um, walking) and attention/diversion tactics to engage the public with their performances.
Aspiring non-performance art amateurs also have a few options, from LACMA's free family art workshops to the UCLA Fowler Museum's upcoming Afghan fighter kite-making workshop to the Getty Center's Family Art Lab.
This Saturday, June 23, aspiring artists can practice and pitch in on a collaborative effort at Dockweiler State Beach that will use UV paint to create a mural that glows under black lights. The event, called "Nite-Write," is presented by MobileMuralLab in cooperation with the L.A. County Department of Beaches and Harbors and the L.A. County Arts Commission.
With options like playing with glowing paint and belting out show tunes, there's something for just about everyone. Don't worry if you're a newbie; you'll be glad you left your armchair behind.
"The first time you go," said the Hollywood Bowl's Manocha, "you kind of need to figure it out, and then every other time you will be more involved in the fun."
Posted 6/21/12
Even as movies shrink to fit onto our computers, tablets and smart phones, Tinseltown seems to be thinking big this season, with outdoor movie screens popping up all over greater Los Angeles. With Memorial Day weekend marking the unofficial start of summer, this might be a good time to turn off the iPad, stretch out on a picnic blanket and start making plans to share a little cinematic magic under the stars.
Perhaps the highest-profile al fresco offerings come from none other than the Academy of Motion Picture Arts and Sciences. The inaugural season of "Oscars Outdoors" debuts this June in a brand new open-air venue complete with a 40-foot by 20-foot screen. The Academy hopes the film series will give audiences a more social movie-going experience.
"The idea of having an outdoor screening facility, which could offer an 'outside the box' approach to our screenings and programs, seemed like a wonderful way to return the feeling of community to movie-going," said Randy Haberkamp, Managing Director of Programming, Education and Preservation.
The season kicks off with the Casablanca on Friday, June 15, and goes on to feature other classics like Shane and A Star Is Born, in addition to more recent fare like Ferris Bueller's Day Off, Dreamgirls and Jim Henson's The Dark Crystal. The season concludes Saturday, August 18 with a "sing-along" screening of The Wizard of Oz. Tickets for non-members are $5.
Another new outdoor movie series is "Eat/See/Hear," which takes its shows on the road using cutting edge technology, including a three-story inflatable screen ("the largest west of the Mississippi," boasts its website). As the name implies, the shows offer more than movies.
"We have this amazing weather and we're the city that started the food truck revolution, so we thought, 'Let's mash up food with the movies and throw in some of the best local bands,' " said Sharon Sperber, co-producer of the events, which are presented by the online movie ticketing company Fandango.
Eat/See/Hear's 2012 program kicks off at Santa Monica High School this Saturday, May 26, with Anchorman, music from Islands and The Diamond Light and 10 different food trucks. From there, the show travels to Pasadena, Brentwood, North Hollywood, Beverly Hills and other locations in the area. General admission is $10.
Other ways to get your outdoor film fix this summer include free programs such as Movies on the Green at the Valley Cultural Center and the Old Pasadena Film Festival, which will screen classics and family-friendly films over four weekends in July.
Not all the outdoor movie programs are newcomers. For the past decade, Cinespia at the Hollywood Forever Cemetery has been showing vintage films and cult classics, projecting them onto the white marble wall of Rudolph Valentino's tomb. Cinespia's 2012 schedule is already underway, with Sabrina and Grease coming up this weekend, on Saturday, May 26, and Sunday, May 27, respectively. A $10 donation is requested.
Another quintessentially L.A. outdoor movie-going experience takes place at the Hollywood Bowl, where audience members, many of them in costume, can sing along as Grease and The Sound of Music are screened, on July 14 and Sept. 22 respectively. Tickets start at $9.
The world's entertainment capital has never been mistaken for a small town, but as this summer's outdoor film bonanza rolls out, it just might feel like one. See you at the movies!
Posted 5/23/12
Terry Bell was a 34-year-old homemaker with two children in Westwood when art changed her life.
"It was the early '60s, and I had a good friend who did fundraising for the museum," she remembers. "One day she said, 'You're a disgrace! You're a college graduate and you don't know anything about painting or sculpture.' "
At her friend's insistence, she signed up for a then-new program to train docents at the Los Angeles Museum of History, Science and Art in Exposition Park, which at the time housed the county's art collection. Now, 50 years later, she is an avid art collector, a Los Angeles County Museum of Art life trustee and a founding member of one of the largest docent organizations in the nation. She has exposed thousands of visitors to museum treasures, recorded acoustic guides for major exhibitions and worked against the censorship of controversial and important artworks.
And she traces it all to that decision a half-century ago to volunteer as a LACMA docent..
"It is just so rewarding," says Bell, who this week is among the hundreds of honorees celebrating the golden anniversary of LACMA's Docent Council. "Not only in terms of yourself, but in what you can give back to the community."
Some 521 men and women belong to the Docent Council, a volunteer juggernaut whose members have led more than 2 million children and adults through the museum since it became an official entity in 1962.
More than a million Southern California schoolchildren have been led on field trips by LACMA docents; so have generations of adult visitors to the museum's many exhibitions.
"We are definitely in the front lines," says Judith Tuch, who chairs the council. "We provide the personal connection between the students and adults who come to the museum and the art they see. For many, it's the first time they've ever been in a museum. For some, unfortunately, it may be the only time they'll be in a museum.
"We encourage them to understand that this is a county museum, and that this is their place."
The council grew from a small group of volunteers who explained art during the 1950s at what is now the Natural History Museum. Though visitors at that Exposition Park site mostly came to see dinosaurs and fossils, the county also had quietly been amassing fine art since the 1920s. Members of the Junior League, the Volunteer League of the San Fernando Valley and other local organizations offered informal tours of the gifts from such early donors as William Preston Harrison, Paul Rodman Mabury and William Randolph Hearst.
In 1961, amid planning for a separate Los Angeles County Museum of Art on Wilshire Boulevard, the groups joined forces to create a formal docent training program. Fifty-three women took the special classes in art history and elementary education. 
After a provisional year, the Docent Council was officially formed, chaired by Glenn Cooper, a Junior Leaguer who later became a well-known arts patron in Sun Valley. Their goal: To train 200 docents in time for the official opening of LACMA in 1965.
The docents were key almost from the moment the new museum opened. In 1966, for instance, they rose to defend Edward Kienholz's still-controversial "Back Seat Dodge '38." The piece, which depicts a beer-soaked encounter in a parked car, is so sexually charged that members of the then-Board of Supervisors denounced it as pornographic.
"I had met Ed Kienholz and talked to him about the exhibition, and I thought it was terrific," Bell remembers. 
Eventually, the Supervisors decided the piece could be seen, "but the door to the car couldn't be open unless a docent was there to explain it," Bell says, recalling that at one point, she had to tour a group of clergy that included her own rabbi—whom she had to shush with the admonition that she listened to him every week, so he should do her the courtesy of returning the favor. 
The piece—like later Kienholz exhibitions that Bell also guided—became a sensation and visitors mobbed the museum. "Five or six of us guided tours every 20 minutes," Bell remembers, "almost around the clock."
Since then, the council has grown along with the county in diversity and sophistication. Some 25 members are men and docents of all races, creeds, ages and backgrounds lead tours in multiple languages.
Now overseen by the museum's Education Department, the group has a training regimen that includes extensive coursework in art history and touring techniques and a 2-year provisional period. No member can tour adults without spending at least 5 years doing school tours.
"We have several attorneys in the current [provisional] class," says Patsy Palmer, a child psychotherapist and longtime LACMA volunteer who now trains incoming docents. "One man in my group is a retired doctor." All the new docents, she says, "are highly qualified and uniquely skilled."
"We've come so far," agrees Bell, who says she can't wait to see how visitors respond to "Levitated Mass" and other upcoming attractions. "We're really in a marvelous place."
Posted 5/2/12

The pianos are coming—and the Los Angeles Chamber Orchestra hopes Southern California is ready to play.
In an initiative that will involve artists, community groups and businesses from throughout the region, 30 upright pianos will be dispatched to street corners, public parks and assorted outdoor locations throughout Greater Los Angeles this month just to see what transpires around them.
They'll be free, available 24-7, tuned by professionals, decorated by some of L.A.'s most talented artists and equipped with plastic covers in case of bad weather. All the public will have to do will be to follow the instructions that will be written on each one:
"Play Me, I'm Yours," the inscription will say.
"I'd read about this in London and New York, and thought it was a spectacular idea," says LACO Executive Director Rachel Fine, who began laying the groundwork for the initiative even before she officially started her job at the orchestra in late 2010.
The pianos will be placed across the Southland, from North Hollywood's El Portal Theatre to the Watts/Willowbrook Boys & Girls Club, from Atlantic Times Square in Monterey Park to Union Station and the Santa Monica Pier.
The endeavor, which will run from April 12 until May 3, is part of a worldwide public art project launched in 2008 in Birmingham, England, by British artist Luke Jerram. Placing temporary pianos outdoors where people can stumble upon them and, perhaps, make music, the "Play Me, I'm Yours" street piano project has so far set up more than 500 pianos in 22 cities.
Though "Play Me" has generated random acts of community and music from Sao Paulo to Sydney, it has been little known in this country, Fine noted. So far, the only American cities in which the project has appeared are Austin, Cincinnati, Grand Rapids and New York. This year's schedule includes Salem, Ore., and Salt Lake City, in addition to L.A.
Fine called the project "a major undertaking," but said she and the orchestra's board members felt early on that it would be a perfect way for the orchestra to celebrate Music Director Jeffrey Kahane's 15th anniversary with LACO and to reach out across L.A.'s metropolitan sprawl. Kahane, she noted, is a renowned pianist, and one of the orchestra's priorities has been to remind Angelenos that it's there as a community resource.
In fact, the organizers were still reaching out on Twitter this week for the last couple of uprights, although by the end of the day Friday, pianos had been secured for all 30 locations, thanks to donations facilitated by the Hollywood Piano Company.
Fine said that wherever "Play Me, I'm Yours" has gone, it has generated thousands of impromptu concerts, YouTube videos, dance parties, sing-alongs and jam sessions. Some artists have made it a point to play every piano.
And, she noted, the pianos themselves might be seen as "blank canvases", which is why more than a dozen well-known Southern California artists, including muralist Kent Twitchell and painter Frank Romero, have been commissioned to decorate them, as will community groups such as the Braille Institute, the HeArt Project and Homeboy Industries.
"I've seen some of the painted pianos already," says Fine, "and they're exquisite."
Backers include corporate citizens such as the Wells Fargo Foundation and community partners such the Los Angeles City Department of Cultural Affairs, Fine says.
The event will kick off precisely at noon on Thursday, April 12, with a free, countywide, performance of Bach's "Prelude No. 1 in C Major" from the "Well-Tempered Clavier," played simultaneously on all the pianos by Kahane and 29 other accomplished pianists and music students from around L.A.
After that, each musician will play one more Bach prelude and a selection of pieces of their own choosing. And then, for the next three weeks, it will be first-come, first-served for anyone else who wants to tickle the ivories.
"This is by far the most ambitious presentation of the installation to date," the artist, Jerram, said in a statement. "I hope the public enjoys the project and takes advantage of the opportunity to perform, express themselves and go out and play."
For the piano nearest you, go to streetpianosLA.com or click here. And for even more video highlights of "Play Me, I'm Yours" in other cities, click here.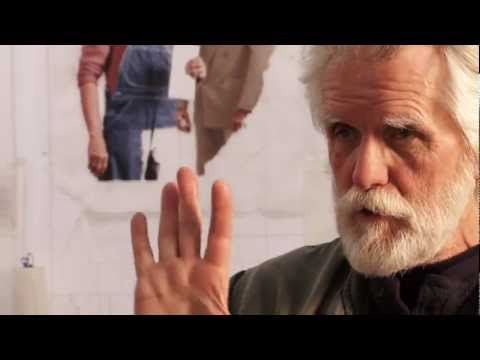 Kent Twitchell made his name as an outdoor artist whose enormous, hyper-realist outdoor portraits have become an indelible part of the L.A. landscape.
But there's a downside to all that larger-than-life public visibility. He's seen many of his iconic works disfigured by vandals and sometimes unceremoniously destroyed over the years. So it is with a sense of relief and renewed enthusiasm that he's working on his latest project—a series of murals for the county's downtown Bob Hope Patriotic Hall that will be displayed safely indoors.
Our video visit to Twitchell's downtown L.A. studio offers some behind-the-scenes insights into this important work in progress, while the gallery below gives a sense of the breadth of his work, from the salvaged remains of earlier pieces to the prep work for such still-standing murals as "Harbor Freeway Overture."
Twitchell was selected in 2010 for his role in the Patriotic Hall project, part of an extensive renovation. In coming months, his artwork, painted on mural fabric, will be moved from his studio and adhered and sealed to the lobby walls of the imposing 1926 building.
Posted 3/21/12
As crowds cheered and a loudspeaker blared Queen's "We Will Rock You," the Rock rolled into the Los Angeles County Museum of Art just before dawn on Saturday morning, riding down Wilshire Boulevard in its massive red transport like a 340-ton beauty in the Rose Parade.
"Fantastic," said LACMA Director Michael Govan, unable to stop smiling as the focal point of "Levitated Mass," the museum's latest permanent installation, paused in front of the museum.
"Yahoo!" applauded Govan's 7-year-old daughter, who was dressed in a pink coat and hoisted high on his shoulders.
"Magnificent!" breathed Alexandra Thum, a West Hollywood product designer who had worked her way through the crowd to get a curbside view. "It's just so great to be here and see all the community together." Around them, several hundred onlookers cried "Bravo! Bravo!" under the antique street lamps of another iconic LACMA masterpiece, Chris Burden's "Urban Light."
The reception capped an 11-day trip across 22 cities and four counties for the boulder, a hunk of granite the size of a 2-story teardrop that, in the weeks ahead, will be affixed atop a concrete channel, creating the illusion that it is levitating overhead. The work by Nevada earth artist Michael Heizer is scheduled to open in spring or early summer. (The famously reclusive artist was not on hand Saturday, but is expected to be in Los Angeles for the piece's assembly.)
Although The Rock, as it came to be known, is only one component in the installation, it instantly became a media event itself because of the novelty and engineering involved in its move from its Jurupa Valley quarry in Riverside County.
Progressing at a stately 5 miles per hour and parked by day to minimize traffic disruptions, it inspired a marriage proposal in Glen Avon and a citywide block party in Long Beach, gawker's block in Diamond Bar and pajama-clad sightseers near Expositon Park. In Rowland Heights, an accountant came home to discover it outside his bedroom window. So many people posed next to it for photos that, perhaps inevitably, it became an Internet meme for a digital moment.
While many thrilled at the spectacle, some decried its estimated $10-million expense, which has been covered entirely by private donors. "I think they should have spent $10 million on art programs instead of this rock," said Patrick Taylor, a security guard and father of two who lives near Exposition Park.
Overall, however, museum officials were pleasantly surprised at the public reaction, which included a wave of fresh awareness for LACMA.
"When this started, I thought it would be much more controversial," said Govan. "You know, 'Is it art? Is it not art?' But people mostly have just been fascinated and appreciative. And so many have learned about the museum from this experience."
On Friday night—or, more accurately, Saturday morning—that appreciation was out in full, only-in-L.A. glory as thousands pulled all-nighters for the last leg of The Rock's journey, up Western Avenue and along Wilshire Boulevard's famed Miracle Mile.
Onlookers on foot and on bicycle snapped photos and videos and narrated the boulder's slow-speed progress on hundreds of cell phones. Dogs barked. Tourists jumped out of buses and cabs to investigate the commotion.
A tall man dressed as Jesus and a shorter person dressed as a unicorn posed for pictures. Comedians worked the crowd. ("Have you seen my dog? It's a ROCK-weiler!") Further back in the crowd, actress Sharon Lawrence ("NYPD Blue," "Desperate Housewives") kept a low profile with her physician husband.
When the boulder slowed to make the painstaking turn in front of the Wiltern Theatre, a man waving an American flag ran out into the intersection, whooping. When the transporter was forced to stop, waiting for a tow-truck to remove a Dodge illegally parked in front of a karaoke bar on Wilshire, a dazed-looking young woman leaped into the street and either fell or tried to crawl underneath it. Shaken crewmembers escorted her back to the sidewalk and issued her a stern warning.
But for the most part, the mood was festive and communal, and the boulder's movers—many of whom had walked alongside the megalith for most of the 105-mile route—were ready to celebrate by 4:30 a.m., when the procession paused in front of "Urban Light" for its final paparazzi moment.
"I got blisters on three of my toes," laughed crewman Joe Schofield of Emmert International, who said on Saturday that he had been on foot, watching the rock, for more than 75 miles of the journey. Separate work crews ran ahead at each stop to clear the path of utility lines and landscaping. Workers from Time Warner Cable said they had moved lines in some 90 locations.
"Everybody has been clapping and cheering and connecting," said Emmert General Manager Mark Albrecht, noting that, aside from that one incident with the young woman and a couple of mauled palm trees, the delivery was almost miraculously free of hitches. Around him, hard-hatted workers humbly ducked their heads as Los Angeles County Supervisor Zev Yaroslavsky and Los Angeles City Councilman Tom LaBonge thanked them.
Meanwhile, a crush of spectators rushed to touch the shrink-wrapped megalith with their fingertips until the transporter was put into gear again for the last yards of its journey, finally disappearing behind a gate on Fairfax Avenue and Sixth Street at 5:03 a.m.
Los Angeles art fans may feel like they've been waiting since the Stone Age, but it looks like that 340-ton boulder heading for LACMA could be on the road as early as Tuesday, if not the following week.
The Rock, as it has come to be known, is to be the centerpiece of a massive outdoor installation by artist Michael Heizer, who purchased it seven years ago from a Riverside County quarry. It has been waiting there ever since while museum officials worked with a heavy-haul transport company to negotiate its passage from the Inland Empire to the Mid-Wilshire District.
"Nothing is set in stone yet, no pun intended," said LACMA consultant Meg Spieker Thomas, but all signs are that The Rock's departure is nearing.
It was scheduled to roll last August, but its progress has been fraught with postponements. First its transporter had to be custom built and then its movers had to plot a surface-street route that could handle a hunk of granite the size of a 2-story building.
The route finally was settled back in October, but then problems arose as word leaked that this would be an unconventional shipment, and the haulers began to negotiate permits with the 21 cities and four counties through which The Rock required passage. Most communities were accommodating, but a handful raised multiple issues. At various points, intervention was required from members of the Board of Supervisors.
Despite the fact that most of the roads being used are longstanding truck routes, Chino insisted that blueprints and repair records be extensively researched to prove that the transporter wouldn't damage water pipes serving Chino Hills homeowners. Lakewood and Long Beach called for tree trimming to ensure the transporter wouldn't sideswipe their landscapes. Diamond Bar and Chino demanded that core samples of their pavement be tested. Gardena wanted special assurances that if its street lights were damaged the city would be reimbursed.
"Heavy hauls move through these cities every night," Thomas said. "People failed to understand that this one was just getting special attention because of the art factor and the publicity."
But by this week, most, if not all, concerns had been addressed and state permits had been issued for a Tuesday, February 28, departure. Haulers have already shrink-wrapped the rock and loaded it onto its special transporter. Should some snag arise, preventing a Tuesday departure, Thomas said the move would probably be rescheduled for the following week.
The rock will travel only at night, escorted by eight California Highway Patrol officers. During the day, it will be parked and watched over by four security guards. Its layovers, with one possible exception, will last only a day and most will be in the middle of various roadways, with space on either side for traffic to detour around it. The epic journey is expected to take nine or ten nights, traveling at less than 10 miles per hour.
The public will be able to track its progress via LACMA's web site or a special museum hotline that will be made public as soon as The Rock hits the road.
Updated 2/25/12
It's official. LACMA announced Friday that The Rock will roll Tuesday at 11 p.m.
Transportation, made possible by Hanjin Shipping, will take about 11 nights, covering 22 cities and four counties. The heavier half of a massive outdoor artwork, "Levitated Mass" by Michael Heizer, the 340-ton boulder will eventually be positioned over a 456-foot-long concrete slot on the LACMA campus. As visitors walk through the slot, the boulder will appear to be levitating.
It is scheduled to arrive at LACMA in the wee hours of Saturday, March 10, and open to the public in the late spring or early summer. Those who want to follow its progress can check LACMA's Rock hotline at 323-857-6262 for questions, or click here for updates. Want to check out the route? Click here.
Chris Burden's vast, new miniature skyline may have been one artist's urban vision, but behind the scenes, it took a village to build "Metropolis II".
"It was a long process—almost five years—and it took a lot of people," says the L.A. artist on a recent morning at LACMA, straining to be heard over the din of his creation. The idea, he says, was to evoke the energy of a modern city; around him 4,400 tiny toy wheels on 1,100 toy cars whoosh around an elaborate thicket of toy skyscrapers at up to 240 scale miles per hour.
The room-sized piece, opening to the public January 14, is on long-term loan to the museum from its owner, LACMA trustee Nicolas Berggruen. A big hit in sneak peeks last month, it will be available for viewing anytime, but will only operate Fridays through Sundays, with a special showing on the Martin Luther King, Jr. holiday.
Situated just a short walk from Burden's iconic "Urban Light," it is mesmerizing and frenetic, a singular vision of a way of life familiar to every visitor with a car in the parking garage of the museum. But Zak Cook, Burden's lead engineer, says as many as eight people at a time were assigned to the project, working under the artist's watchful eye in his rural studio in Topanga.
"In all," he says, "probably 14 people had a hand in it."
Hiring crews of assistants isn't unusual for successful artists, who often need extra hands and special expertise to execute large-scale ideas. "It doesn't take away from the fact that it's Chris' work," Cook notes. "The work couldn't exist without Chris. It could exist without me."
Burden's crew, like the piece, reflected Southern California:  There were two special-effects artists and two college-level art instructors, a maker of artisan snowboards, woodworkers, ceramicists and assorted masters of fine arts from UC Riverside and UCLA. One of the craftsmen on the prototype was the lead guitarist in the L.A.-based band "Dengue Fever." Much of the infrastructure and train wiring was done by a heavy diesel mechanic-turned-jewelry-designer who was a finalist last year on Lifetime Television's "Project Accessory."
Some laid the Plexiglas track. Some built the dreamlike skyscrapers. Some installed the intricate floors and platforms. UC Riverside MFA Alison Walker and the "Project Accessory" finalist Rich Sandomeno came to know the piece so well that LACMA has since hired them to operate and maintain "Metropolis II" and act as a sort of pit crew.
"It was supposed to be a 9-month job and I ended up working on it for three years," joked Sandomeno. "But it's been so great to work with Chris and Zak and all the other artists. Besides, he adds: "When I was a kid, I loved Hot Wheels. "
The combination of Burden's vision and all that painstaking labor is as intricate and playfully serious as art gets—a vast, buzzing skyline that has been compared to New York, L.A., "The Jetsons" and the 1939 World's Fair. In the course of an hour, the tiny vehicles whip around the thicket of fanciful high-rises a collective 100,000 times on 18 lanes of traffic.
"It's a city of the past and a city of the future," says Burden. "It's a city of the past in the sense that the cars run free, and a city of the future in their speed."
An earlier, much smaller, version, with only about 80 cars, was built in 2004 for a Japanese museum, Burden says, "but they showed it for six months and then the museum changed direction. " After the piece was put into storage—"all that work and then nobody got to see it"—Burden decided to make another Metropolis that would be "bigger and better."
"Metropolis II," however, took on a life of its own, says Burden: "I think we finished right around the time of Carmageddon. Every building took three or four months, which, I think you could build a tract house in that time."
Cook served as general contractor for Burden's architectural direction, working out such not-so-minor details as how to make the cars move reliably. (After much trial-and-error, Cook invented a sturdy, yet invisible, electrically powered conveyance system that hauls the toy cars uphill with magnets, like a rollercoaster, then releases them.)
Burden guided the team closely, Cook says, but also welcomed their input. Many contributed ideas for the exquisite buildings, which the team gave informal names: "AzDec Plaza" was a half-Aztec, half-Deco extravaganza contributed by Walker.  An octagonal black high rise with blue windows, built by painter and fellow MFA Greg Kozaki, was known as "DarkTower." A beautiful blue-and-green glass tile skyscraper was dubbed "Linkous Tower" by Frank Diettinger, a mold-maker who had done special effects for films such as "Sleepy Hollow" and "Bride of Chucky", and who wanted to honor deceased indie singer-songwriter Mark Linkous.
"Whoever built it got to name it," says Cook, adding that there was one major exception. "There's an Eiffel Tower-looking building made from erector set parts, with the uppermost narrow part kind of extended, and Chris named that one."
"Yeah," laughs Burden, "I call it 'Viagra Tower' because it's too tall."
Cook worked on the piece from its inception. Of all the team members, he acknowledges, he probably has the least artistic resume. The 42-year-old son of a former Time correspondent, he graduated from UCLA with a degree in geography and worked for several years in the consulting division of CALSTART, a Pasadena-based clean transportation consortium.
But after a trip to India in 2000, he says, he realized that he didn't want to keep doing white papers on the environmental impact of ports and airports; he wanted to write fiction and children's books.
In search of a day job, he got a call one day from a friend who worked for Burden's wife and fellow artist Nancy Rubins; Burden needed someone to help restore his 1998 sculpture "Hell Gate", a massive bridge made of erector set pieces. The friend knew that Cook had done construction work in college.
Learning on the job, Cook then went on to help Burden build several more major pieces, including Burden's 2001 "Bateau de Guerre", a massive battleship made of gas canisters, and his 2002 model of a British landmark, "Tyne Bridge".
Burden jokes that Cook "was in charge of work-ethic."
"He's very precise and thorough," says the artist. "I couldn't have done this work without somebody like him."
Cook says that now that "Metropolis II" is finished, he intends to return to his own pursuits, and maybe finally finish those children's stories.
"Not that Chris and I would rule out working together again in the future, but, honestly, this is such a great note to go out on," he says, watching from a balcony at LACMA as the traffic hums by in the city that he helped make.
"I don't see how I could ever top this."
Posted 1/12/12