Civic Arts
As art collections go, it's impressive, from famed sculptor Jonathan Borofsky to activist/artist Judy Baca to renowned Eastside painter Frank Romero.
The catch? You have to be traveling to see it. Oh, and a lot of it is literally underground.
The sprawling exhibition of public art that Metro has built in L.A. County's subway, bus and commuter rail stations will celebrate its 25th anniversary next year. (Take a virtual tour in our gallery below.)
Launched in 1989 with a half-percent set-aside from rail construction costs, Metro's award-winning collection of public transit art now encompasses work by some 120 artists in 100 stations, plus posters, photography, poetry and other temporary installations by another 180 artists. Last week, eight California artists were selected to create work for the second phase of the Expo Line, which will run to Santa Monica from the end of the first segment at Culver City.
"Art brings a unique vibrancy and vitality to L.A.'s Metro system," says Maya Emsden, deputy executive officer for creative services at Metro, who is one of a handful of co-authors on a forthcoming American Public Transportation Association "best practices" paper on integrating art into public transit.
"Art was an integral part of the Metro rail planning process from the very start."
Metro's collection kicked off in 1990 with a now-highly-collectible poster by Romero to commemorate the opening of the first Metro rail line. That inaugural artwork, which depicts an old Red Car morphing into the Blue Line as classic cars, blimps and airplanes whiz around it, was followed the next year by "Unity," a glowing, blue-and-white permanent installation of 82 fiber-optic light panels in the subway tunnel between the Metro Center and Pico Stations by Thomas Eatherton, an artist from Santa Monica. 
That piece led in 1993 to a series of now-iconic permanent artworks: Borofsky's "I Dreamed I Could Fly," a collection of life-size fiberglass figures suspended from the ceiling of the Civic Center station; Terry Schoonhoven's Union Station mural of "time-scapes" from Spanish galleons to Carole Lombard, sitting on a suitcase; Joyce Kozloff's ceramic tile "film strip" murals in the 7th Street/Metro Center station; Stephen Antonakos' hanging neon artworks at the station below Pershing Square.
Since then, the program has expanded with L.A.'s transit system, says Emsden; the new commissions for Phase 2 of the new Expo Line were selected from some 400 submittals and include such artists as Shizu Saldamando, Abel Alejandre, Susan Logoreci, Nzuji de Magalhaes, Constance Mallinson, Carmen Argote, Judithe Hernandez and Walter Hood.
Though the half-percent of construction costs that L.A. reserves is substantially smaller than transit art set-asides in Boston, New York, Portland, and most other cities with such programs, Metro has been able to stretch its allotment by integrating the artworks as much as possible into the station construction.
"One of the ways we're able to maximize the limited budget is through early involvement in the project," says Emsden. "This also ensures important art-related things like lighting are integrated into the station plans."
The added efficiency of building art into a station, as opposed to going back later and retrofitting, is just one of a number of art lessons Metro has learned in the past 24-plus years. Art program staffers have learned to work closely with architects, engineers and maintenance staff to situate pieces so that maintenance of the art is taken into consideration—a matter that can be trickier in, say, a rail station than in a museum.   
"The Borofsky piece, 'I Dreamed I Could Fly', is one of my absolute favorites," says Emsden. "But if we were to do it again we'd make sure the figures, which are actually self-portraits of the artist, were hung in a way that we could lower them for cleaning." The flying fiberglass figures—like everything else in the stations—get covered over time with magnetic steel transit dust that can only be removed with specialized equipment and cleansers, says Emsden.
"So every five years or so, we get up there and clean them between 2 a.m. and 4 a.m."
Another lesson: Some kinds of art fare better in transit settings than others.
Eatherton's 1991 light piece, for instance, has been out of order for about six years, due to the technical challenges of maintaining aging electrical elements in a hard-to-reach space. Part of a Jacqueline Dreager sculpture at the Blue Line's Wardlow station had to be taken out because it was too close to a landscaping sprinkler and was slowly being decomposed by the water. A set of Gilbert Lujan benches at the Hollywood/Vine station had to be refurbished and then eventually removed altogether because vandals kept tagging and carving their initials into the sculpted bench backs.
However, the vast majority of the Metro projects have fared well, says Emsden, adding that even delicate images have been made transit-worthy by rendering them in materials that are sturdy enough for public artwork.
"We've commissioned a couple of artists whose whole body of work is on paper, but there are some amazing artisans in L.A. and elsewhere who can translate those artist's visions into very durable materials," says Emsden.
For example, one Canadian studio that specializes in mosaics has made detailed lino-cut prints by Sonia Romero and Daniel Gonzalez, paintings by Samuel Rodriguez and photos by Pitzer College associate art professor Jessica Polzin McCoy into intricate Metro panels made of ceramic tile.
Meanwhile, she says, the program has yielded some pleasant surprises. One was the groundswell of interest among local culture enthusiasts asking to do guided art tours. The result, in 1999, was a Docent Council whose volunteers have introduced more than 30,000 people to the art of the Metro system. Notes Emsden: "We're the only transit agency with volunteer docents and free Metro art tours."  
Perhaps the nicest surprise, however, has been the way in which some Metro pieces have worked their way, just by word of mouth, into the public imagination. "There's a light piece by the artist Bill Bell that, if you say a secret word into a tiny hole in the wall at the top of the escalators that go down to the Red and Purple Lines at Union Station, the piece will speak back to you," Emsden says.
There's no sign. There are no instructions. The artist, by design, held back the "secret word" (the names of any of the various celebrities depicted, from Rin Tin Tin to Dizzy Gillespie) and left no clue that any extra magic might be found there.  "But I can't tell you how many times I've seen someone going past there—a security guard, a commuter, a business person—and saying to the person next to them: 'You gotta check this out!' "
Public art and public transit come together in the following gallery. All images courtesy Metro.
Posted 4/11/13
As the county Hall of Records hits the big 5-0 this year, it's getting a youthful new neighbor and a second look by a public that's been largely unaware of its towering architectural stature—and its aging condition.
Unbeknownst to many in the Civic Center crowd, the 1962 building is a striking example of Modernist architecture and ahead-of-its-time eco-design by the legendary Richard Neutra with his then-partner Robert Alexander.
Now that Grand Park, with its splashy pink furniture and high visibility quotient, is set to open its next segment right next door to the Hall of Records on September 11, a new generation of Angelenos is about to meet up with a structure that Los Angeles Times architecture critic Christopher Hawthorne describes as being "among the most underrated modernist buildings in Los Angeles." There's even talk of screening outdoor movies and concert simulcasts on the Hall of Records wall that faces the new Community Terrace section of the park.
"Bringing more people into the area is a good thing and will change how people view [the building]," said Linda Dishman, executive director of the Los Angeles Conservancy. Although she says the Hall of Records is "very much admired"—and eligible for listing on the California Register of historic resources—it's less visible than other downtown Modernist favorities like architect A.C. Martin's Department of Water and Power Building, not to mention Frank Gehry's internationally acclaimed Walt Disney Concert Hall.
"Buildings that people can see from the freeway, they really tend to care about," Dishman said.
Although it's been keeping a low profile, the 15-story Hall of Records is a busy place, bustling with workers from eleven county departments. But its signature tenant, the Registrar-Recorder/County Clerk, picked up stakes and moved to Norwalk years ago, along with the records that gave the building its name.
And some signature elements of the building's architecture are now broken, repurposed or out of public view, although many of its glories remain (see photo gallery below.)
Its most compelling features—massive solar-activated aluminum louvers, designed to move with the sun and keep the offices inside shaded—have been locked into place for more than two decades. The building's manager says they're "beyond economical repair."
In a digital age, the windowless wing of the T-shaped building that was built to hold records now tends to hold mostly county workers instead.
A cafeteria on the building's top floor, with its dramatic "spider leg" exterior columns and broad balcony showcasing killer views, has long since stopped dishing up lunch for bureaucrats. Instead, it's been transformed into office space for Superior Court witness and juror services.
The Hall's "Mad Men"-era lobbies have seen better days, too—though they still exude enough early '60s fabulousness to attract film and TV crews galore. ("The Lincoln Lawyer" shoot left behind spruced-up light fixtures and a series of oversized Los Angeles-themed photos in a glass case.)
And the exterior lighting that once illuminated the building's Hill Street facade? It's out of order, with a bench pulled over the fixtures so no one trips on them. "It's on the list for repair," sighs Charlie Bedell III, chief of the District Attorney's Property Management Division. The D.A.'s office, which now occupies most of the office space in the Hall of Records, is charged with the often thankless task of maintaining the building. Other tenants range from the Alternate Public Defender and the Auditor-Controller to Regional Planning and the Treasurer-Tax Collector.
Still, there are signs that things are perking up: fresh landscaping around the building looks bright and healthy. A mosaic-and-granite mural by artist Joseph Young on the north side of the building was restored by a conservator hired by the county Arts Commission in 2008 (although it's due for another cleaning soon.)
And, while the general public may be only vaguely aware of the Hall of Records' existence, Hollywood location scouts have placed it on the A-list.
"Everybody wants to come to this building to film," Bedell said. "They love the old architecture of this building. They love the uniqueness of this building."
Hollywood also loves what's not readily visible—the subterranean world of tunnels connecting the building with the Hall of Administration, the Hall of Justice and the Criminal Courts building.
"Most people don't know these tunnels exist," Bedell said, although they've been seen in features ranging from "Eagle Eye" to "National Treasure."
With a long list of maintenance needs, and a short supply of funds, a top priority is repairing the tunnel doors so they can be secured after-hours—of particular importance now that a public underground parking lot serving Grand Park has opened right next to the Hall of Records.
But there's so much left to do. The building's deterioration frustrates Neutra's son, architect Dion Neutra, who bemoans the non-functioning louvers, the "abandonment" of the rooftop cafeteria, the lobbies "all festooned with crap and signs." His Vienna-born father worked for much of his career in Southern California, creating striking residences and office buildings that helped establish a signature mid-century aesthetic in Los Angeles, Orange County, Palm Springs and other areas. Some of Neutra's buildings have been destroyed, and preserving his legacy requires vigilance. (Efforts to stop the planned demolition of Neutra's Cyclorama Building at Gettysburg National Military Park in Pennsylvania are underway.)
In that context, the upkeep of the Hall of Records takes on new urgency, Dion Neutra said.
"Why would a steward of a building like that, with millions of dollars of original cost, allow it to deteriorate like that?" he asked. "It just doesn't make sense."
The significance of the building goes beyond its architectural pedigree. Integrated into the Hall of Records are two artworks from the county's Civic Art collection:  the Joseph Young mural and a dramatic eight-story-high screen by ceramicist Malcolm Leland that covers the building's ventilation system.
Clare Haggerty, the Civic Art collections manager for the county Arts Commission, said she would like to see plaques installed on both artworks, to inspire passersby to take a deeper look at what's in front of them. In the process, they might just see the Hall of Records itself in a whole new light.
"I would say that, like a lot of our artworks, sometimes to appreciate them, you need to know a little of their backstory," Haggerty said. "It's actually pretty amazing."
Photos by Henry Salazar/Los Angeles County
Posted 8/28/12
Triple Chicken Foot, meet BombaChante.  If you're looking for proof of the energetic multiculturalism of L.A. County's musical scene, look no further than the lineup for this summer's free summer concert series, presented by the Arts Commission.
In the 3rd District alone, the offerings range from the jazz/electronica stylings of Beautiful People (West Hollywood, July 22) to Very Be Careful's  Colombian-inspired "vallenato" dance grooves (Encino, October 14) interspersed with plenty of jazz, R & B and American roots music at venues including the Los Angeles County Museum of Art and Bergamot Station in Santa Monica.
Or spread your musical horizons even wider and check out the concerts countywide. There's nothing scheduled for the 4th of July, but there's plenty on the bill after that, including a July 5 concert featuring Along for the Ride at Roosevelt Park in South Los Angeles.
The free summer concert series is one international adventure that doesn't require a plane ticket—and may have you humming "I Love L.A." all the way home.
Posted 7/3/12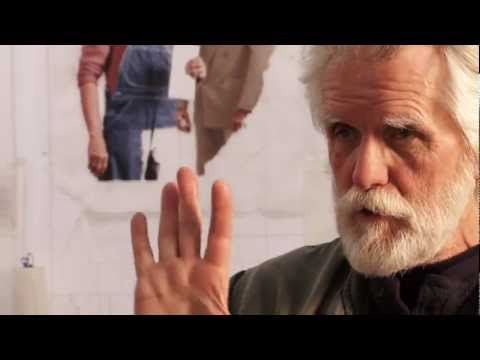 Kent Twitchell made his name as an outdoor artist whose enormous, hyper-realist outdoor portraits have become an indelible part of the L.A. landscape.
But there's a downside to all that larger-than-life public visibility. He's seen many of his iconic works disfigured by vandals and sometimes unceremoniously destroyed over the years. So it is with a sense of relief and renewed enthusiasm that he's working on his latest project—a series of murals for the county's downtown Bob Hope Patriotic Hall that will be displayed safely indoors.
Our video visit to Twitchell's downtown L.A. studio offers some behind-the-scenes insights into this important work in progress, while the gallery below gives a sense of the breadth of his work, from the salvaged remains of earlier pieces to the prep work for such still-standing murals as "Harbor Freeway Overture."
Twitchell was selected in 2010 for his role in the Patriotic Hall project, part of an extensive renovation. In coming months, his artwork, painted on mural fabric, will be moved from his studio and adhered and sealed to the lobby walls of the imposing 1926 building.
Posted 3/21/12
The Los Angeles County Arboretum and Botanic Garden, devastated by last December's violent windstorms, has some beautiful plans for its fallen trees.
This week, the Board of Supervisors cleared the way for about 100 downed logs and branches to be given to artisans and wood artists to create pieces for a special exhibit and auction benefitting the Arboretum's continued restoration. The project will be curated by the Arboretum's artist in residence, Leigh Adams.
"We lost some 235 trees, and several hundred more were damaged," says Arboretum CEO Richard Schulhof. "Some were total losses, and a lot of that wood has been chipped and is being returned to the soil as mulch here at the Arboretum.
"But we also had piles of tree branches—eucalyptus, oak, coral trees, fig trees. Some of it was very interesting wood that doesn't grow anywhere else. So after the storm, we had people come up to us and say, 'What are you going to do with this beautiful wood?'
"And we thought, 'Why not ask some artists and artisans to do something that speaks to the next generation being planted, and that commemorates the trees that were lost?'"
Because the wood stockpiles are limited, Adams will invite artists to contribute: "We're looking for people who know and visit the Arboretum, for whom it means something personally," Schulhof says.
He adds that the auction will be held on the weekend of December 1-2, which is the anniversary of the devastating windstorms. Proceeds will go to the Arboretum Tree Fund established by the nonprofit Los Angeles Arboretum Foundation.
"It will help buy new plantings to replace what was lost," says Schulhof, "and bring in the Arboretum's next generation of trees."
Posted 3/14/12
The players included a teenager from El Salvador missing her faraway mom, a boy from Africa's Ivory Coast telling a family secret, a girl from Israel wrestling with what it means to be real, not "plastic."
They spoke their lines with honesty and transparent emotion. Dressed all in black and moving about a spare stage, they took turns in the spotlight, young faces aglow.
Was this a pitch-perfect ensemble created by a Hollywood casting director? Or maybe an off-Broadway troupe preparing for a long theatrical run?
Hardly. This group came together in Karen Ritvo's English as a Second Language class at Fairfax High School.
And the words they spoke were true—wrenched from the struggles of their real lives and spun into autobiographical poetry as part of a special collaboration with the Music Center.
When the students took the stage recently for a one-time-only performance at the Greenway Arts Alliance theater on the Fairfax campus, it was the culmination of a creative and transformative process that had started months ago with studying the art of others: Pablo Neruda's Poetry and Alvin Ailey's Revelations.
Soon, the students were coming up with revelations of their own, as they began crafting poems based on real experiences of struggle and change.
Some grappled with universal experiences of being a teen—a first kiss, or the heartache posed by a girl wanting to be "just friends." But many sketched a very specific reality of being young, separated from loved ones and trying to make it in a strange land.
…All I have is her voice on the other
end of the line telling me "Baby everything is gonna be okay."
That doesn't take away the pain so I go to bed and wait for the
lights to go down so I can start to cry…
—"How it feels to miss my mom" by Daisy Juarez
Others wrote of the pain of dislocation, and of trying to make sense of a strange new language.
Some strangers just glance at me
This town is a maze
This foreign language sounds like unknown magical words
Colored signs make me confused
I need a new map
To go home to my adorable family
—"A New Map" by Yunha Kim
They described feeling invisible—or, even worse, too visible.
How shy she is in the center of this strange land
Everything she sees is unusual and unfamiliar
No one pays attention to her but she feels only tons of stares on the back of her head
—"Nothing Can Stop Me" by AiLing Lu
So why do you choose to be so rude
If all we want from you is your help to open up
I know you think I'm an alien
But like you I'm from earth
—Untitled, by Sheyla Jordan
Then it was time to move from writing to performing. Madeleine Dahm, a Music Center teaching artist from London, (yes, she's from someplace else, too) worked with the students to stage a unique production that melded their original poetry with dance moves from Revelations and some recited lines from Neruda.
The show ended with each student speaking their name and where they'd come from: China. El Salvador. Ethiopia. Guatemala. Ivory Coast. Israel. Korea. Mexico. Uzbekistan.
The families, friends, fellow students and well-wishers who'd packed the small theater applauded enthusiastically, some wiping away tears.
"This is as good as education can get, I don't care what level," Fairfax principal Ed Zubiate said during a brief Q & A with the performers after the show.
Then it was over. The next week, the end of the semester would scatter the students, breaking up the world they'd formed in Room 219 and bringing down the curtain on all they experienced together.
But not on what they'd learned.
"After the performance, I realized that I don't need to be afraid of anything," said Natanel Giladi, 17, of Israel, whose poem "Who I really am" dealt with how hard it is to find one's true self.
"I feel like wow, I finally said it," said 17-year-old Kevin Miranda, of El Salvador, who wrote about losing his aunt and grandmother to cancer.  "Because I didn't even talk to my mom about what happened. It was just something I had inside that I didn't have the opportunity to express. It was my first time on stage."
"I learned that I'm not the only one who feels weird or feels sad in this country," said Daisy Juarez, 19, also of El Salvador, who'd written about missing her mom. "They have their problems, too. It's not only me. I learned not to judge."
Posted 2/14/12
It may not be easy to tell a book by its cover, but when the county's newest library opens this weekend, visitors will have no trouble knowing which community's stories are surrounding them.   
From the design to the public artwork, the long-awaited Topanga Public Library, which will be dedicated on Saturday, is an organic outgrowth of the community it will soon serve. 
"They tried to make it as homegrown as possible," says Topanga artist Matt Doolin, who, with his brother Paul and his mother Leslie, created a circular tile mural of an idyllic Topanga landscape that will anchor the library's main room.
The 11,293-square-foot, silver LEED-certified building broke ground in 2008 and has been in the works for more than a decade; for generations, residents of the mountain community had made do with other towns' libraries and a visiting bookmobile. (Click here for a gallery of early construction work.)
Although Los Angeles County funded the $19.6 million project, it was clear from the start that the iconoclastic community, filled with environmentalists and artists, would insist on weighing in on the building's aesthetic and carbon footprint.
"There are a lot of stakeholders in Topanga," laughs Rebecca Catterall, former president of the Topanga Canyon Gallery and a 30-year-resident of the rustic enclave.
"There's a sense of a spiritual connection there that's not like any other place, and I think it's important to the people," agrees Norman Grochowski, who spent most of his career in Topanga and whose massive-yet-whimsical steel-and-ceramic book flowers bedeck the library's entry.
"Topanga is a land within a land, a place far away."
So a local design advisory committee was convened to determine the rustic "lodge" look of the North Topanga Boulevard building, and the library was built to the latest green construction standards.
Meanwhile, in accordance with county policy, one percent of the cost of construction was allocated for the incorporation of civic art into the project. A second local committee, this one pulled from the local art scene by the Los Angeles County Arts Commission, commissioned pieces by four local artists. (Click here for an extensive photo gallery of the of the library's artwork on Green Public Art's Flickr page.)
Catterall, who sat on the arts committee, says the group methodically culled 29 entries in search of artists who were both representative of the community and who worked on an architectural scale. Patricia Correia, a Topanga-based art dealer and former gallery owner who served with Catterall, says the artists were chosen first and then asked to make pieces for specific areas of the building.
"A lot of times in public art, people pick a beautiful sculpture and then find out it's too small or too big."
Some aspects of the new library ended up being literally rooted in Topanga: A podium, two Adirondackchairs, two rocking chairs and a picnic table were made from trees that had had to be removed during construction. That work, set in motion by Supervisor Zev Yaroslavsky's office, was done by Don Seawater, whose California-based Pacific Coast Lumber Co. is a leader in the use of reclaimed wood and urban forestry.
Artist and art teacher Megan Rice, who did two papier mache sculptures for the library's children's section, also honored the fallen trees—two oaks and two pines—by using one of the stumps as the base for "A Great Tale," which depicts a little boy reading to his faithful dog.
"I've lived in Topanga since 1956, and when I heard they were looking for artists with a vested interest in Topanga, I felt, 'That's me'," says Rice, who was 5 when her parents moved to the community.
"My mother was the children's librarian at Topanga Elementary School for eight or ten years, and I grew up with the bookmobile—in fact, in my early childhood, it was a very big part of my life because we had few neighbors, and for a long time my mother didn't have a car, so getting a big stack of books there was a source of great excitement for me."
Local potter Jim Sullivan, a resident since the early 1960s, remembered the Topanga childhood of his now-grown daughter when he designed the ceramic tile "rug" just inside the front entrance. "When she was in fourth grade, she went to the Adamson House inMalibu, and the docent stopped them at the front door and pointed to the threshold," says Sullivan. "She said, 'Does anybody know what that is?'"
Only Sullivan's daughter, the child of a ceramist, knew that the design on the floor was a broken tile mosaic. When the guide explained that broken tile was often used in doorways because of ancient lore that it kept out evil spirits, Sullivan says his daughter became so excited that she begged him relentlessly to install similar mosaics in their own house.
Since then, he says, he has done a number of such installations, and when he heard about the library commissions, he felt a piece of broken-tile floor art would be perfect for Topanga's new landmark. His 8-foot-wide piece, made entirely by hand, he says, depicts a spark growing into a flame of intellect and community.
All the artists who contributed work are established and well known in Topanga. The Doolins have done murals at local landmarks ranging from Disneyland California Adventure to public pools in South Los Angeles. Grochowski, who now lives in Crescent City, Ca., but visits Topanga several times a year, has shown work at LACMA and the Laguna Art Museum.
Rice's work has been exhibited throughout California, and Sullivan, whose ceramics are in a number of private collections, has done historic restoration work from Malibu to Pasadena; for many years he co-owned Malibu Ceramic Works, a Topanga tile company that replicated historic tiles.
Correia says the work by Sullivan and the Doolins echoes Topanga's long history as a center for ceramic artwork and the sculptures by Rice and Grochowski brought variety.
"There aren't a lot of libraries getting built anymore," she notes. "It was exciting, and we wanted to bring a three-dimensionality to the space, take it beyond just a big painting or a big mural outside."
The new library "is incredibly important," adds Correia.
"We don't really have an everyday kind of communal place that isn't a commercial space," she says. "This is going to bring the community together in a way that deals with knowledge and culture and imagination. I can't wait."
The library's grand opening will take place Saturday, January 21, at 11 a.m. The address is 122 N. Topanga Canyon Blvd.
Posted 1/17/12
He gave the world majestic images of Yosemite, not to mention the unforgettable "Moonrise, Hernandez, New Mexico." But Ansel Adams was no sentimentalist when it came to disposing of his old work.
In the early 1960s, the celebrated photographer happened upon a trove of negatives and small contact prints dating back to an assignment for Fortune magazine in Los Angeles. Some of his photos ran in the magazine's March, 1941 issue with a story on the aerospace industry's WWII buildup in Los Angeles.
But Adams had photographed far more during the assignment—bowling parties, quirky architecture, trailer park life, a cemetery reposing next to oil wells. So he wrote to the Los Angeles Public Library offering the images not as art but as a slice of the city's history. (His letter is here.)
"The weather was bad over a rather long period and none of the pictures were very good," he wrote. "If they have no value whatsoever, please dispose of them in the incinerator."
Fortunately, the city did not put the images out with the trash. The library accepted the photos and gave Adams a letter valuing them at $150 for his income tax purposes—more than the $100 valuation he'd suggested.
Since then, the photos have periodically been "rediscovered" and given a public viewing. (Here's a link to Huell Howser's "California's Gold" segment; a Flickr gallery is here, and NPR's online feature "The Picture Show" has featured them as well.)
Fans of photography and Los Angeles history had a chance to learn more about the images during a free presentation last year at the library's Los Feliz Branch. The presentation by Richard Stanley was part of the library's "Architecture & Beyond" lecture series. (See details in update below of a gallery exhibition of the images that begins Feb. 18, 2012.)
"He photographed virtually the whole city, from Santa Anita to the Santa Monica Pier," said Stanley, who's a realtor as well as an Adams admirer and frequent photography lecturer in the series. The images demonstrate that Adams "was a working photographer, not just a fine artist."
Christina Rice, acting senior librarian for the Los Angeles Library, last year initiated a three-month project to better present the images online and to research the historic (and often vanished) locations where the photos were made. But some of the details seem to have been lost to the ages—like the location of that cemetery by the oil wells.
Still, Rice said, ""from a Los Angeles history viewpoint, I think they're amazing."
Posted 2/17/11
Updated 2/1/12: L.A. Observed reports that the photographs will be getting a gallery show, with sales benefitting the Library. The exhibit opens Feb. 18. Details are here.
Minding a masterpiece isn't easy. The Watts Towers have been among Los Angeles' great public treasures, but their upkeep has been a full-time challenge almost since they were finished in 1954.
Rattled by earthquakes, assaulted by rainstorms, the fantastic, filigreed metropolis erected by an Italian-born amateur stonemason in a South-Central barrio is perpetually in a state of deterioration. The mortar cracks. The tiles are forever falling. The joints are damp with seepage and rusting from within.
Late last month, the Los Angeles County Museum of Art announced plans to lend a hand to the recession-slammed city in ensuring that Simon Rodia's renowned public sculpture is preserved. The art world is applauding the one-year agreement, in which LACMA will contribute expertise, staff and — most crucially — fundraising assistance.
And cheering the loudest are Zuleyma Aguirre and Virginia Kazor.
For some 20 years, Aguirre and Kazor have tended the towers. Before her retirement this summer, Kazor spent 19 years as the historic site curator, managing the conservation effort for the city's cultural affairs department.  Aguirre, her lead conservator, handled all the on-site restoration, tending every inch of concrete, tile and metal until she was sidelined two years ago by an injury on the job.
Together, the two women – one an art historian raised in Los Angeles, the other an El Salvador-born expert in the restoration of pre-Columbian artifacts – have shepherded the landmark through the Los Angeles riots, the Northridge earthquake and countless storms and budget woes. This week, they sat down with ZevWeb to talk about the labor of love that became not only Simon Rodia's life's work, but theirs as well.
"The first time I came to the towers," Aguirre remembers, "it was 1988. They were just – oh! Amazing! Rodia's work made me feel like I really had not done too much in the world."
She had come to the United States in the early '80s on a grant to visit museums, and remained, reluctant to return to her country's civil war. The Watts job became hers after she hired on with a city consultant working on the towers' preservation. The project, she immediately realized, would be like no other.
"I had come from working in museums," she says, "and the towers were just so different. There were no drawings we could find, no blueprints. We had to do X-rays to learn how he did the connections on 5,000 joints."
In 1991, Kazor became Aguirre's supervisor on the project. Already a longtime curator for the city, her relationship with the towers was more than three decades old. As a student in 1958 at the University of Southern California, she had been assigned to report on them by her design teacher.
"I was so fascinated that after that, when I met someone and found him interesting, I'd always take him first to the Watts Towers," she remembers, laughing. "And if — and only if — they liked them, then I'd go out with them."
Then and now, she says, she was moved by the assemblage – a collection of 17 structures, built over 33 years by an eccentric handyman. Constructed by hand out of scraps and castoffs, the towers' famed spires soar up to 99 feet over their impoverished surroundings.
Kazor, who was diagnosed with Parkinson's shortly after being assigned to Rodia's project, connected with the resolve that fueled it: "They're ours and they're absolutely unique. And they are a testament to what one person can accomplish, if they just set their minds to it."
That determination, the women say, was what most impressed them, day after workday.
"Rodia was a common laborer who took part-time jobs," Kazor says, "but he was sort of intuitively brilliant. He took any steel he could find — rebar if it was available, but he'd use water pipe or anything he thought would work.
"And he didn't weld. He overlapped the pieces, wrapped the overlapped portion with wire to hold them together, and then covered that with chicken wire. Then he took a very dry concrete mix — you could pick it up by the handful and it would hold its shape — and he'd press that into the chicken wire. Then he would press into that the decorative elements he had chosen. Seashells or tile or the impression of a tool or broken glass."
But his work didn't end there. "After that, he would have to keep the concrete moist by spraying it with water for more than a week," Kazor says. "And he did this by climbing up the towers as if they were scaffolding. And he would carry on his arm a bucket with whatever materials he needed. And every time he needed more materials, he had to go all the way back down to the ground and then all the way back up again."
Honoring that artistic commitment has required its own brand of determination. After every Santa Ana wind or winter rainstorm, tile and bits of concrete shower from the structures onto the ground. Moisture is a constant challenge.
"Once water gets past the decorative surface and through the concrete, the steel inside it rusts," says Kazor. "And then the rust expands. And the cracks get larger, and more water gets in, and eventually the interior steel structure rusts away."
Part of Aguirre's job, she says, was to walk the site with her crew daily, picking up fragments and carefully documenting where they had fallen and where they belonged.
"Early on in the project, the whole structure was completely photographed, and broken down into a 4-foot grid," says Kazor. "So each worker, every day, would be assigned a certain area, and at the end of the day, record what he did there."
That painstaking documentation, she says, has been the key to FEMA and other grants that have underwritten tower restoration again and again.
The work hasn't always been safe.
"Once," Kazor says, "one of our construction workers was on the scaffolding 40 feet in the air, and an earthquake hit. And he said, 'Please don't fire me, but the scaffolding was shaking so hard, I had to hang onto the tower.' When he looked down, he said, he could see the wave of the earthquake come down the street, lifting the backs of the parked cars."
In fact, Aguirre has been unable to work for more than two years, after having been struck by a piece of scaffolding that damaged two cervical vertebrae in 2008. It was not her first on-the-job injury. In 2001, she says, she was mugged as she arrived for work early one morning, carrying her purse and her laptop.
"This young fellow asked me for the time, and when I didn't know, he went with his fist in my face," Aguirre remembers. The blow broke six of her teeth and severed an artery, and Kazor says Aguirre nearly bled to death before she was found.
Yet for all the challenges, the women say, the towers have been deeply rewarding.
"It's magic there," says Aguirre. "I felt I could hear Rodia's steps some days, when everybody went to lunch and I stayed there alone. From the top, you can see all over the city. It's gorgeous. You have a whole other vision of Watts. Or just sitting there below, looking up. Hearing all the Watts sounds. The neighbor sounds – the rap, the Mexican music, the lambada, the smell of the materials. The mix. Everywhere you look, it is art."
This fragile, unconventional beauty, Kazor says, is why LACMA's involvement is so welcome.
"The city does not really have the resources any more to do what needs to be done," she says, noting that by the time she retired, the manpower the city had committed to the towers had fallen from about 14 full- and part-time workers to two.
"The Watts Towers are as important as any work in a museum. They are like the Eiffel Tower, or the Millennium Wheel in London. They're a great gift to Los Angeles."
Watch this short film on the Towers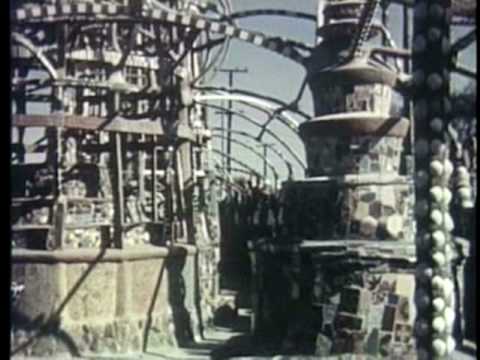 Posted 10/28/10