The wheels are in motion.
The county's bicycle master plan—its first in 36 years—is about to get more innovative as it heads toward the finish line, Department of Public Works director Gail Farber said this week.
Responding to a unanimous push from the Board of Supervisors, the county's bike planners will get to work on integrating more forward-looking design elements into the cycling master plan within the next 45 days, Farber said.
The board acted on a motion by Supervisor Zev Yaroslavsky which said the new bike plan should "not just move us out of the 1970's, but move Los Angeles County forward as a leader in 21st Century bicyclist safety and comfort."
To get there, the motion said the plan should incorporate "leading edge" designs such as those found in the Model Design Manual for Living Streets recently completed by the county Department of Public Health. Among the proposed innovations are varied lane and sidewalk widths, bolder paint treatments of bike lanes and "cycle tracks," which separate bike lanes from traffic.
"The motion sends a clear message that the plan needs to do more to make the county a better and safer place to bike," Farber said. "The board wants us to embrace these design concepts and we certainly plan to do so."
Cycling advocates have been pressing for a bolder and more ambitious master plan, which will serve as a blueprint for bike facilities in unincorporated Los Angeles County for the next 20 years. The plan as currently drafted would add 816 miles of new bikeways over the next two decades, at a cost of $327.7 million.
The motion approved Tuesday represents a proactive approach to the bike plan, which must be approved by the county's Regional Planning Commission before the Board of Supervisors formally takes it up early next year.
Testifying before the supervisors' vote Tuesday was Alexis Lantz of the Los Angeles County Bicycle Coalition. She said the motion provided "guidance to staff" to create a plan that "truly improves the safety of our roadways, especially for people who need or choose to bicycle to meet their daily needs."
A "visionary" bike plan could play a role in creating a healthier and more livable Los Angeles County over the next two decades, she said.
Farber said continued collaboration with the cycling community will be important as the plan moves forward. And she said she sees retooling the current draft as "more of an opportunity" than an obstacle.
"We're excited," Farber said. "We embrace the input."
Posted 11/30/11
The photo captions dub him the "unidentified man," whether he's escorting Lindsay Lohan through a blizzard of golden confetti or guiding Mel Gibson through a gauntlet of paparazzi.
But everybody who's anybody in Los Angeles County courthouse and government circles knows that the tall, broad-shouldered figure in those pictures is Steve Wheatcroft.
The veteran county sheriff's sergeant has long been an unsung but essential player on the front lines of L.A.'s celebrity-media circus, bringing decorum and safety to the courtroom comings and goings of America's most photographed.
He's been responsible for the security of judges like Lance Ito, who presided over O.J. Simpson's murder trial. He's made sure that defendants like Lohan, Gibson, Phil Spector and Dr. Conrad Murray made it through media scrums and into courtrooms with a minimum of chaos. And whenever a threat is made against a Los Angeles County judge or member of the Board of
Supervisors, Wheatcroft and his team have jumped into action.
But now, after more than two decades of rubbing shoulders with L.A.'s famous and infamous, Wheatcroft is ready for a little family time.
"As they always say at the Super Bowl, I'm going to Disneyland," said Wheatcroft, 54, who will retire in the next few weeks after more than 32 years on the job.
Instead of heading up the sheriff's Security Operations Unit—which assesses threats on public officials, helps manage high-profile trial logistics and provides protection to supervisors and judges—he'll be hanging with his eight (soon to be nine) grandchildren and cruising around in his black '59 Corvette.
Leaving the job is kind of like leaving the family business for Wheatcroft, whose brother and son also work for the sheriff's department.
More than anything, he said, he'll miss the camaraderie of the eight-member unit that he joined back when it was just a two-man operation run out of the county marshal's office. When the marshal's office merged with the Sheriff's Department in 1994, Wheatcroft's unit took over protective services for the supervisors as well as the judges. As part of the job, he has served as sergeant-at-arms for the Board of Supervisors' meetings and helped with logistics for visiting dignitaries ranging from Muhammad Ali to Kirk Douglas.
At Tuesday's board meeting, the supervisors gave Wheatcroft a big send-off.
"All I can say is this is the sweetest cop you will ever meet," said Supervisor Gloria Molina. "But that doesn't take away the kind of commanding presence that he has had here at the board."
Supervisor Zev Yaroslavsky saluted his professionalism and ability to "defuse situations that could have gone the other way," including threats made against the supervisor or his staff. "You put me and my family at ease during those moments," Yaroslavsky told Wheatcroft.
Supervisor Michael D. Antonovich thanked Wheatcroft and also singled out his work in the courts. Ticking off a long list of celebrity defendants the sergeant has escorted, he noted: "You could see him in all the movie magazines."
Which is true, actually, but doesn't seem to have gone to his head.
Over the years, the "unidentified man" in all those photos has had the chance to observe a lot of famous people under difficult circumstances.
Lohan, Wheatcroft said, is "just kind of a confused girl" who told him she "likes to party."
Nicest celeb? That would be Rod Stewart, whom Wheatcroft accompanied during a week-long civil proceeding at the courthouse. The British rocker was, in Wheatcroft's words, "a humble, appreciative person."
Close followers of the O.J. Simpson case may remember the time the jury, lawyers and judge in the so-called "trial of the century" took a field trip to Simpson's Rockingham Avenue estate. Wheatcroft arranged it. He did the same with an excursion to Vitello's restaurant during the Robert Blake case.
And—as if Los Angeles County didn't have enough of its own well-known defendants—Wheatcroft has been called in to advise officials elsewhere in the U.S.and Canada on how to handle high-profile proceedings. He's written on the subject in Officer magazine.
By his side throughout has been his high-school sweetheart and now-wife, Wanda. After the board send-off Tuesday, she said her husband had often shared tales from his star-studded work over the years.
"But only in an entertaining way," she said, "never in a complaining way."
Posted 11/30/11
Chestnuts roasting on an open fire? Better check your woodpile and your air quality.
Amid concerns about agricultural pests and air pollution in Southern California, state and local authorities have been paying closer attention this year to wood-burning fireplaces, one the most fragrant, but environmentally vexing, aspects of winter in L.A.
For instance, the Southern California Air Quality Management District will begin issuing mandatory "no burn" advisories through the end of February on days in which fine particulates in the area exceed federal health standards. Though the advisories are expected to be rare, and first-time offenders can get off the hook by taking a smoke-awareness course, fireplace owners who repeatedly light fires on those days can be fined up to $500.
"Fine particulates are not only bad for the environment, but bad for our health," says AQMD spokeswoman Tina Cherry. "They can lodge deep in your lungs and exacerbate lung conditions and asthma. So this year, on days when the fine particulate levels reach 35 micrograms per cubic meter, we're asking people not to burn wood."
State and agricultural authorities, meanwhile, have been urging residents with wood-burning fireplaces to "buy it where you burn it" when it comes to firewood because so many invasive insect pests and diseases are transported in woodpiles.
"Right now, there's a quarantine in San Diego County because of a pest called the Goldspotted oak borer, which spreads via wood and is a real threat to oak trees," says Frank McDonough, botanical information consultant at the Los Angeles County Arboretum & Botanic Garden.
"But you have to be careful even in areas without quarantines."
The measures and warnings seek to wean Southern Californians from the wood fires that are such a tradition this time of year. To many, one of the coziest aspects of winter is the smell of a eucalyptus or oak log in the hearth, burning down to embers, but the fires that perfume winter nights with that smoky aroma also spew about 5.5 tons of particulate matter a day, on average, into the region's air, according to the AQMD.
The new "no-burn" mandates are the latest in a set of measures aimed at controlling that pollution. Wood-burning fireplaces and stoves have been banned in new developments since 2009 in California, and voluntary no-burn days were initiated last year.
Although AQMD data has indicated that curtailment conditions can occur as often as 15 times in a typical winter, only one voluntary no-burn advisory was issued in 2010-11, and that was in February in the Riverside area, Cherry says.
This year's mandatory no-burn laws will run from November 1 until February 29, and the AQMD will issue residential wood-burning advisories to let the public know whether particulate levels are elevated.
Residents can call a "Check Before You Burn" hotline at (866) 966-3293 to find out whether an advisory has been issued, or click here to sign up for an online notification. An interactive no-burn advisory map, which allows users to check for advisories by entering a ZIP code in the search area, is also available here.
Posted 11/30/11
This is not your usual block party. The location: Skid Row.
On Saturday, the Skid Row Housing Trust is inviting neighborhood residents and the public at large to join together in a day of entertainment and interaction.
The group's director of external affairs, Molly Rysman, says the event gives often-isolated individuals a chance to socialize.
"The goal is to help residents with community integration," she says. "It's an opportunity for people to come together and get to know their neighbors."
Singer-songwriter Mary McBride will headline the event as part of "The Home Tour," her series of charity performances in supported housing communities, long term health care centers, homeless shelters and other institutions. There'll be other live musical acts, as well as karaoke, food and a fashion show.
Skid Row Housing Trust currently manages and operates 21 homes for the homeless of Los Angeles, providing a range of support services, including health care referrals and substance abuse treatment.
The organization also is a partner in Project 50, a Los Angeles County pilot program initiated by Supervisor Zev Yaroslavsky in 2007. The project originally targeted 50 individuals considered most likely to die on the streets of Skid Row. Using lessons learned from the pilot, the program has moved beyond the initial mission; to date, 92 chronically homeless people have been placed in permanent supportive housing through Project 50.
The block party takes place on Saturday, December 3, from 1 p.m. to 4 p.m., weather permitting. Parking is located at the Skid Row Housing Trust lot, 1326 Industrial Street. Please R.S.V.P. by calling (213) 683-0522, extension 159. The event is still seeking volunteers, too. If you want to pitch in, send an email to renee@skidrow.org. Of course, you can always support the organization's ongoing efforts by donating online.
Posted 11/30/11
As Southern California's holiday parade season gears up, Pacoima is among the first to step out in style.
The 44th annual Pacoima Christmas Parade and Charity Toy Run begins at 9 a.m. on Saturday, December 3. The parade starts at the corner of Oneida Avenue and Van Nuys Boulevard, and travels east on Van Nuys to Glenoaks Boulevard. Local officials, celebrities and athletes are among this year's participants.
At noon in David Gonzales Park there will be a post-parade festival, featuring local musicians, artists, performers and some of L.A. County's ubiquitous gourmet food trucks. The festivities run until 4 p.m.
Posted 11/30/11
Los Angeles County's new bicycle master plan, now in its final months of preparation, should be retooled to embrace more forward-looking design ideas and innovations for safer cycling on local streets, according to a motion set to go before the Board of Supervisors Tuesday.
The motion by Supervisor Zev Yaroslavsky calls on the county Department of Public Works to create a bike plan that "will not just move us out of the 1970's, but move Los Angeles County forward as a leader in 21st Century bicyclist safety and comfort."
Specifically, the motion says that the plan should "promote the use of leading-edge designs such as those found in the Model Design Manual for Living Streets that was prepared by the Department of Public Health." Those include "cycle tracks" that separate bike lanes from traffic with dividers such as a lane of parked cars, and experimental street design approaches—including the possibility of varied lane and sidewalk widths in some areas—that do not fall within current Caltrans standards.
The motion urges the county to take the lead in helping such street layouts receive state approval for broader implementation.
If approved, the motion would not mandate such innovations at any particular locations, but would require that they be placed in the plan as options.
Many in the cycling community have been pushing for a bolder county bike plan, as was made clear by a series of bicycling advocates who appeared recently before the county's Regional Planning Commission. The plan as currently envisioned would add 816 miles of new bikeways in unincorporated Los Angeles County over the next two decades, at a cost of $327.7 million. But many of those new miles fall into the lowest category of bike routes—those with just signage, no dedicated lanes or designated space within lanes.
The supervisors are expected to act on the bike plan, the county's first since 1975, by March, 2012. But the motion makes it clear that changes need to be made before the plan's final environmental impact report is finished in the days ahead.
"It is critical that the Board of Supervisors not wait to send a clear message that we expect this plan to do more to make the County a better, safer place to bike," the motion said.
Posted 11/23/11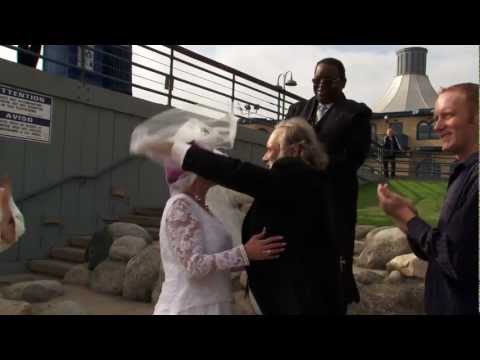 The wedding of Denny Lyons and Terrie Madrid on Santa Monica Beach was less a storybook ending than a new beginning for the chronically homeless couple. Their big day—Friday, November 18—came about with help from a program called Project 60, which assists veterans like Lyons, who served in the Navy Reserve, to find permanent supportive housing, health care and treatment for mental health and substance abuse issues. Now, with a federal housing voucher in hand, the couple can move out of the Samoshel homeless shelter and into their own apartment.
Posted 11/23/11
This is not a fairytale love story.
Over the course of 23 years together, Denny Lyons and Terrie Madrid have lived in an improvised lean-to on a deserted restaurant patio. They've had—and lost touch with—a now-teenaged daughter and son. They've battled illness, unemployment, substance abuse.
In short, this chronically homeless pair has lived on the bleak side of "for richer and poorer, in sickness and in health" in a way most couples can't begin to imagine.
But now, after more than two decades of bad choices and bad breaks—and with a big assist from an initiative called Project 60—they just took a step in a new direction.
They got married.
Their wedding, celebrated Friday on the beach in Santa Monica and captured in the video above, clears the way for them to live together in their own apartment under a recently-issued federal housing voucher.
Beyond that important practical benefit, the ceremony also marked something of an emotional milestone—a tribute to staying together against long odds.
"It's time," said Lyons, 58. "She stood by me through thick and thin. It's been real hard on her."
Or, as the V.A. chaplain who performed the wedding put it: "This is a good example of love in action."
Things started looking up for the couple about 11 months ago, when they entered the Santa Monica shelter called Samoshel, run by the Ocean Park Community Center. For now, and until they get their own apartment, they bunk down every night in separate men's and women's sleeping facilities. But they were able to bring their little dog, Bambi, with them into the shelter—a crucial point as they debated whether to come in off the streets last winter.
Progress has accelerated in recent weeks with Lyons' admittance into Project 60. The initiative is devoted to finding what's known as permanent supportive housing for homeless veterans like Lyons, who served in the Navy Reserve. It's a spinoff of the better-known Project 50, which has targeted some of the most chronic cases on downtown Los Angeles' Skid Row with a holistic approach to housing, health care, mental health and substance abuse treatment.  It's estimated that 7,000 veterans are now homeless on Los Angeles County streets. Project 60 aims to help some of the most vulnerable among them, like Lyons, through a partnership of the West Los Angeles V.A., Los Angeles County and other government and nonprofit agencies.
Lyons  is now receiving veterans' benefits. He has been granted probation for what he described as old drug warrants that had him "living the life of a fugitive, more or less." And he's no longer panhandling on the street with a sign reading: "Smile. It could be worse. You could be me."
Lyons, who said he once worked regularly in construction, said he's been unable to find employment since he developed vascular necrosis in both hips. "It wiped out my ability to work," he says.
And Madrid, 56, said she has lost touch with family—the18-year-old daughter and 15-year-old son she and Lyons had together, and her six other adult children. She said wistfully that she has tried unsuccessfully over the years to get back in contact with her mother and youngest child, who she thinks are living in Whittier. As she and Lyons sat down on their wedding day to list some of the good things that have happened to them lately, she said all that was missing was a reconnection with her family.
Still, "compared to where they were a year ago, it's just night and day," said Ben McAvay, who served as Lyons' best man.
McAvay said he first met the couple 2½ years ago when they would stand every day at his bus stop as he headed to law school classes at UCLA. He said the wedding is just the "icing on the cake" in a saga of struggle and life changes.
"This is just like the cool part of the story," McAvay said.
The wedding ceremony took place just south of the Santa Monica Pier—not far from where Lyons and Madrid once settled their sleeping bags into makeshift foxholes they'd dug in the sand to sleep each night during a particularly tough 8-month stretch.
A small knot of friends (human and canine) gathered to watch, as cyclists, rollerbladers and Hot Dog on a Stick customers wandered by, oblivious to the big occasion playing out in the shadow of the pier's carousel. Lyons wore a tie and jacket (courtesy of a local thrift shop) and Madrid arrived in the wedding dress that the residents' council at Samoshel bought for her, using money earned collecting bottles and cans. The bride had to keep reminding herself that she could now smile broadly for photos, thanks to a gift of dental work funded by her maid of honor, Linda Nixon.
Bambi, prompted by Samoshel project director Patricia Bauman, delivered the rings at the appropriate moment. Then it was time for retired U.S. Army Chaplain Herman Kemp of the V.A. to pronounce the couple husband and wife. There was applause, and a few happy barks.
Many challenges lie ahead, including surgery to replace both of Lyons' hips.
But on Friday, there were blessings to be counted—among them the resilience to keep moving forward together over the course of many years.
"Hope," Lyons said, "is the one thing you've got to keep."
Posted 11/22/11
If you think preparing Thanksgiving dinner for your family is tough, try cooking for 2,500. A large and diverse group of volunteers will do just that at the Westside Thanksgiving Community Dinner and Celebration, where all are invited to belly up to a communal feast. As the name implies, this event involves more than just food. Free medical consultations, children's immunizations, clothing distribution, haircuts and eye exams will all be offered to seniors, students, low-income families and the homeless. A carnival with games, arts and crafts will make sure little ones stay entertained.
It's all made possible by donations and volunteers. Many have signed up already—so many, in fact, that if you want to pitch in you'll probably have to wait in line. The event still needs turkeys, though, so the best way to help probably involves dropping off a fully-cooked bird between 9 a.m. and 11 a.m.
The Thanksgiving Day event takes place on Thursday, November 24, at Santa Monica Civic Auditorium, 1855 Main St. It starts at 8 a.m. and dinner will be served from 11 a.m. to 3 p.m. See the website's frequently asked questions section for more details. 
Those looking for another way to contribute to a worthy cause might consider joining a Thanksgiving Day bike ride benefiting Meals on Wheels. Riders gather at 7:45 a.m. in Brentwood, and go as far as 50 miles roundtrip, but you can join in progress if you'd like to sleep more, or pedal less. More route details are here. 
However you may choose to give back, please remember that the need for food, supplies and volunteers isn't limited to the holiday season. Harsh economic times mean more demand and fewer donations, so year-round help is more important than ever. Westside Food Bank, Valley Food Bank, Los Angeles Regional Food Bank and other charities stand ready to gather and distribute supplies. Donations of goods, money or time can go a long way toward helping those who need it most.
Posted 11/22/11