The John Anson Ford Amphitheatre is one of the county's best-kept secrets: a miniature outdoor venue that's a charming cousin to the much larger Hollywood Bowl, located across the Hollywood Freeway.
But down below its main floor, the Ford reveals another secret: an intimate interior performing space for experimental productions. And there, as part of the
[Inside] the Ford New Play Series, you'll find the Vs. Theatre Company's presentation of playwright Neil LaBute's "The Mercy Seat," now running through April 24, 2011 in its Los Angeles premiere.
Described as "a caustically funny examination of opportunism in the wake of tragedy," LaBute's play offers a post-modern twist on a classic theme: what if a sudden calamity offered you a chance to step into a new life? Would you take it?
Performances run Wednesday-Saturday evenings at 8:00 p.m. plus a Sunday matinee at 2:00 p.m. Buy your tickets online here. And here are the driving directions.
Posted 3/31/11
He's "coming into Los Angeles…"
Folk musician and storyteller Arlo Guthrie plays UCLA Live's Royce Hall on April 8. He'll be joined by the harmonies and instrumental accompaniment of his son, Abe Guthrie, and The Burns Sisters.
Guthrie, the son of legendary Woody Guthrie, was part of the pantheon of folk heroes who made their bones during the cultural tumult of the1960s.
Guthrie first came to prominence in 1967 with "Alice's Restaurant," an autobiographical 18 minute story/song that humorously and lightheartedly touched on the trials and tribulations of the anti-war movement. His stage performances have now spanned half a century, including an appearance at Woodstock.
The concert begins at 8 p.m. at Royce Hall on UCLA's campus in Westwood. Tickets range from $33 to $53 and are available online or by phone at (310) 825-2101. UCLA students can attend for the discounted price of $15. Avoid the $10 required for parking by planning your trip with Metro.
Posted 3/31/11
The Studio for Southern California History, located in the heart of Chinatown, is a non-profit community resource dedicated to sharing our region's colorful social history as a way to help modern-day Angelenos rediscover a sense of place.
Where better to start than Union Station, opened in 1939 as one of North America's last, and grandest, old-fashioned railway stations?
On Saturday, April 2, from 10:00 a.m.–noon, the Studio will host a free walking tour exploring not just Union Station, but also the rich history of the communities and rail lines that predate its construction. Meet at the front entrance on Alameda, but you need to RSVP with the names and number of guests, either by phone at (213) 229-8890, or by email at thesocalstudio@gmail.com.
When the heavens open, as they did epically last month, the Los Angeles River becomes a roaring, churning testament to urban junk and waste.
With a collection area of nearly 900 square miles, it carries in its rain-swollen waters anything that can be chucked into flood-control channels or pushed down curbside catch basins—sofas, stereos, soccer balls, spray paint cans from taggers, whatever.
Then there's the trash, layers of plastic bags and Styrofoam mixed with tangled vegetation mowed down by fast moving waters on the river's channel bottom, where it's been allowed to grow wild again.
At the end of this mucky 51-mile journey to the sea is Jared Deck of Los Angeles County's Public Works Department. He oversees a multi-million dollar operation in Long Beach to corral all that junk in a boom unfurled across the river, just north of the Queen Mary and the harbor. Think of it as a goal line stand.
At first, it's hard not to be caught off guard by Deck's youthfulness in a bureaucracy in which some guys have been on the job longer than he's been alive. But then you learn that the 26-year-old is a Hermosa Beach surfer with a unique feel for the value of his job—and those of his colleagues in the Flood Maintenance Division—every time he paddles into the water.
"It's fulfilling," Deck says. "My playground is the outdoors so I enjoy doing anything I can to make it better."
In March, the stakes were historically high for him and the boom, which was first placed across the river 11 years ago as a pilot project. More dammed up debris—460 tons of it—was hauled out of the water than at any time before, tangible evidence of the severity of the March storms. The tonnage included full, uprooted trees. (See video below of the boom in action.)
To be sure, the county, along with its private and government partners, has worked hard to significantly reduce the amount of debris and pollutants flowing into the Los Angeles River from a watershed area of nine million people.
Among other things, county officials have installed 11,000 catch basin screens and other devices in unincorporated areas and have encouraged cities across the region to do the same. They've also launched ad campaigns to discourage dumping and educate the public about the relationship between the ocean and what they wash down their driveways.
Still, during the storm season between October and April, all bets are off. Those catch basin inserts, for example, are designed to unlock so greater loads can be accommodated and street flooding can be reduced.  And, with as much as 330 million gallons a day flowing through the river, there's little to do but wait for the debris to hit the boom.
Formerly called the Los Angeles River Trash and Debris Collection System, the boom is operated by a private contractor, Frey Environmental of Newport Beach. On Tuesday, the Board of Supervisors renewed Frey's contract for an annual sum of $795,000, with a 66-month maximum of about $4.4 million.
Since Frey first got the business in 2003, Dave Duncan has been there for the company as one its site operation managers. During the past eight years, he says he's seen it all, including the sad discovery of a 35-year-old woman's body. "I thought it was a mannequin," he says.
Duncan says he understands why there's so much old junk that ends up at the boom, where it's lifted into dumpsters by cranes with "grab buckets."
"If you're on the low end of things, making $8 an hour and you don't have money to go to the dump, what do you do? You throw it in the channel and hope for the best," he says.
The experience and continuity that Duncan has brought to the operation gave a sense of confidence to Deck, who, in 2008, was assigned by the county to work directly with the contractor. "Whenever I'm on the site, Dave is always there," says Deck, who was promoted last fall and now supervises the person who got his old job.
Deck grew up in central Maine—"in the middle of the woods"—and attended an engineering school in Worcester, Mass. Deck says he was quickly recruited by Los Angeles County before hiring freezes ended such efforts.
The recruiter, a Boston native, took him straight to the beach. "I was sold from there," says Deck, who had learned to surf while studying abroad in Puerto Rico. An avid skier, too, he now lives in a Hermosa Beach apartment.
In his short number of years here, Deck says he's had a great vantage point for seeing the success of efforts to keep the ocean cleaner by diverting runoff and trapping debris. "When I go surfing," he says, "the water quality is significantly better…It's great to see the system functioning and working."
The boom in action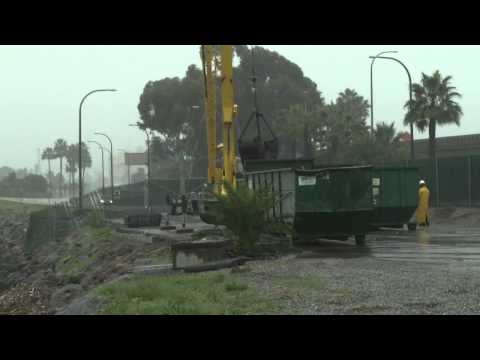 And here's something you can do: Join the Friends of the Los Angeles River's 22nd annual cleanup on Saturday, April 30th, from 9 a.m. to noon. The details are here.
Posted 3/31/11
One of the best things about technology is the way it can keep families connected. But in recent weeks, consumer agencies have issued a warning:
Grandparents beware.
A longstanding wire fraud scam has been taking a national toll on loving relatives, particularly seniors, to the point that authorities in recent week have decided to make an all-out assault on it.
"It's become a big issue," says Rigo Reyes, acting director of the Los Angeles County Department of Consumer Affairs. "Last year, the Federal Trade Commission got over 60,000 complaints on it."
Here's how it works:
A senior citizen gets an urgent call, email or Facebook message from someone claiming to be a police officer or an adolescent grandchild. The message says the grandchild has been hurt or arrested or is otherwise in trouble, and needs hundreds or thousands of dollars to be wired immediately via money order or Western Union. And one more thing: Don't tell mom and dad.
"The grandparents don't want anyone to be in trouble, so they wire the money without checking first with other family members," says Reyes. "In one case, the grandmother told the caller, 'You don't sound like my grandson,' and the guy said 'I broke my nose in a car accident, so I sound different'.
"But in many cases, the crooks can fool you because they hack into Facebook accounts and get enough information about the family to drop names and birth dates and so forth. They get marketing lists with specific details, names and addresses.
"They can be convincing, but once that money is wired, it can be picked up by anyone with a password — and good luck getting it back."
The Department of Consumer Affairs and the Consumer Federation of America offer these suggestions for seniors to avoid being scammed:
–Always check with other family members if you get an SOS from a family member.
–Be proactive. Create a family code word to signal emergencies to each other
–Never wire money without being absolutely sure of the recipient and the reason.
And this goes for you, too, Mom and Dad.
Posted 3/31/11
March was a banner month for Don Wallace. And not just because he and his wife, Jeanne, celebrated their 50th wedding anniversary.
"We finished the party," Wallace remembers, "and the very next afternoon, the phone rang." With friends and family still filtering in and out of the Wallaces' 4.5-acre ranchette in the Santa Monica Mountains, the longtime trail advocate let out a whoop as he received news for which he had waited most of his 70-year lifetime:
His beloved Las Virgenes Creek Trail had finally found its way under the Ventura Freeway.
"I was ecstatic," Wallace says, still thrilled at the approval earlier this month of $300,000 in excess county bond funds that will allow the trail to run uninterrupted from the Santa Monica Mountains down through underpasses at the 101 and Agoura Road in Calabasas and on into Malibu Creek State Park.
The trail easement and improvements—officially dubbed "The Don Wallace Trail Project"—will not only connect the Santa Monica Mountains to the beach for people, horses and wildlife, but also honor one of the most zealous and hardworking trail advocates in Southern California.
For decades, Wallace and other activists have sought to create a path that would allow people and animals to follow Las Virgenes Creek from the pristine mountains down to the ocean, but their dream was stymied by development and traffic. Even as crucial tracts were acquired for the public, the 101 Freeway remained a dangerous concrete barrier between the mountain part of the trail and the beach part.
Then, last year, with funding allocated by Supervisor Zev Yaroslavsky, the Mountains Recreation and Conservation Authority bought a key swath of wilderness known as Firehouse Hill from the developer Fred Sands. The nearly 200-acre Calabasas property is a gateway to the Santa Monica Mountains National Recreation Area—and sits right next to the freeway.
Though environmentalists, activists and government officials cheered the acquisition for many reasons, trail advocates immediately saw its potential as an avenue through which they could bring the Las Virgenes Creek Trail—which is part of a larger loop called the Calabasas Cold Creek Trail—down to and under the 101 along a flood control easement, where it could then connect to the Malibu Creek State Park trail system. They'd just need to make the underpass safe and accessible.
The March vote provided that crucial support, opening the way for a 2,500-foot link that is expected to break ground next year.
"This is a wonderful victory," said Wallace, crediting the many public agencies that pushed for the project. But Wallace's friends and fellow advocates say there's a reason the key link is being named after him.
"He's one of the hardest working gentlemen I know," says Stephanie Abronson, who edits the newsletter for Equestrian Trails Inc., Corral 36, a mountain equestrian group.
Born in Tennessee , Wallace moved to Van Nuys as a teenager after his father, a restaurant owner, visited relatives here and made it a goal to move to California . At 20, he married Jeanne, whom he'd met in a chemistry lab at Pierce College .
The couple settled in Canoga Park , had two sons and got into horseback riding, eventually deciding that they wanted enough land to have their own corral. Wallace, by now a Los Angeles city firefighter, found a spread near the unincorporated community of Monte Nido, and the couple built a house on it. They still live there with assorted horses, cats and dogs and a potbellied pig.
A trail ran near the Wallace's acreage, and one day in the early 1970s, he says, a neighbor who wanted to build a winery came out with a bulldozer and blocked it in an attempt to keep passersby away.
"That trail had been put in in 1935 by the Boy Scouts," says Wallace, who eventually forced the neighbor to open an alternative easement.
"It took three years of work and masses of paper, but I learned never to give up and never to say that it can't be done."
Since then, Wallace has served on the Santa Monica National Recreation Area Advisory Commission, the Resources Conservation District of the Santa Monica Mountains, the Malibu Creek Watershed Council and many other groups seeking to improve the mountains community.
He also served as a deputy for then-Supervisor Edmund D. Edelman in the early 1990s, and ran for supervisor himself in 1988 and 1994.
Throughout, when he wasn't lobbying for trails or riding his horses on them, he was out clearing them with his bare hands, says Ruth Gerson, president of the Santa Monica Mountains Trail Council—"repairing tread, cutting back brush, reducing erosion, and encouraging others to work with him."
That commitment has been challenged in recent years by health problems. Wallace says he has faced a stroke, vascular surgery and two bouts of prostate cancer since the 1990s; last year he underwent a triple bypass.
But his projects are far from finished—he's already wondering how to restore the old Boy Scout trail behind his house.
"I walk every day," says the trail blazer. "And I'm a very strong guy for 70."
Posted 3/31/11
Tucked away just northwest of downtown Los Angeles in the shadows of the Harbor and Hollywood Freeways, Vista Hermosa Natural Park is a welcome patch of green in a vast concrete cityscape.
This Sunday, March 27, at 2:00 pm, join a volunteer docent for a stroll through Vista Hermosa's gardens, followed by a special drawing session that calls upon your inner naturalist to capture the floral beauty and put to paper images of the native plant species.
It's all courtesy of our two regional state park agencies—the Santa Monica Mountains Conservancy and the Mountains Recreation Conservation Authority, which together help acquire and maintain thousands of acres of precious urban wilderness areas in and around the Los Angeles region.
Vista Hermosa Park is located at 100 N. Toluca Street in Los Angeles. Participants should meet at the Grotto Amphitheatre for the two-hour adventure.
Here's Vista Hermosa Park's online information, or call (213) 250-1100.
Posted 3/24/11
Marine Corps Master Sgt. Jerry Ensminger served his country faithfully for nearly 25 years, toughening up thousands of enlistees as their drill instructor. But then his nine-year-old contracted a rare form of leukemia which eventually took her life. Engulfed by grief, but determined to seek out the truth, he eventually stumbled upon a cover-up of a massive water-pollution accident and set about trying to expose it.
UCLA's Hammer Museum Work in Progress series, in conjunction with the Sundance Institute, tonight will screen the documentary of his story, "Semper Fi: Always Faithful," tonight, March 24, 2011 at 8:00 pm, followed by a Q&A with filmmakers Rachel Libert and Tony Hardmon.
Hammer programs are free to the public, but you'll still need tickets—available on a first-come, first-served basis at the Billy Wilder Theater Box Office an hour in advance of showtime. Hammer members get preferred seating, depending on availability. No advance reservations or RSVPs  needed.
The Hammer Museum is located at 10899 Wilshire Blvd, on the northeast corner of Westwood and Wilshire Boulevards in Westwood Village, 3 blocks east of the 405 freeway's Wilshire Boulevard exit. Park underneath after 6p for only $3. Here's everything you need to know to visit the Hammer, or call (310) 443-7000.
Posted 3/24/11
Marlon Brando's Stanley Kowalski, howling in the night for his indifferent Stella. Vivien Leigh's Blanche DuBois, depending on "the kindness of strangers" as she slips into madness. Elizabeth Taylor's Maggie, feral and frustrated, restless as a "cat on a hot tin roof."
These are just a few of American literature's most indelible characters as conjured up by playwright Tennessee Williams, who would have turned 100 this Saturday, March 26. Fittingly, Hollywood's Fountain Theatre will celebrate the birthday centennial for Williams—who died in 1981 at the age of 70—with the West Coast premiere production of Williams' final play, "A House Not Meant to Stand."
Honoring the playwright's roots as a son of Mississippi, the Fountain will be serving up some Southern hospitality along with birthday cake and mint juleps. A video montage will touch on the highlights of Williams' fertile creative life; audience members are invited to dress the part of their favorite characters.
For showtimes, directions and ticket information, visit the Fountain Theatre online at www.FountainTheatre.com, or call (323) 663-1525 for further information.
Posted 3/24/11