In a significant victory for the Expo Line light rail project, a Superior Court judge has turned away a legal challenge that could have delayed or permanently derailed the line's final leg to Santa Monica.
Judge Thomas I. McKnew, Jr., ruling in a case brought by the group Neighbors for Smart Rail, found that the environmental impact review for the Expo Line's second phase was sound.
"EXPO carefully made its decision concerning the project with its environmental consequences in mind," McKnew said in his ruling, which was faxed to attorneys in the case Tuesday.
There is no evidence, the judge found, to support the neighborhood group's claim that Expo manipulated the alternatives "so that the project would appear to be better from a cost and environmental standpoint than the other choices."
Supervisor Zev Yaroslavsky, a strong supporter of the project and a member of the Expo construction authority's board of directors, which approved Phase 2 of the project last year, called the decision "a major milestone on the road to finishing the second phase of the Expo light rail project from Culver City to Santa Monica."
"The court's ruling is thoughtful and thorough and validates the difficult and meticulous work that the Expo Light Rail Authority, its staff and consultants did to ensure that this project will be safe, environmentally sound and sensitive to the communities through which it will travel," Yaroslavsky said.
When completed, the 15.2 mile line will provide access to many cultural and community venues in downtown and beyond, including USC and the beach. It is expected to carry 64,000 passengers a day, making it one of the most heavily used rail lines in the country, Expo officials said.
Proponents of the Expo Line, which is being financed largely with revenues from the voter-approved Measure R,  note also that it will be a key conduit for workers commuting to the jobs-rich Westside.
Opponents in the Neighbors for Smart Rail group, which includes a number of local homeowners associations, say they are not against a rail system as such, but contend it should run underground for safety and quality of life reasons.
But the judge found that Expo officials had fully explored the alternatives to running at street level and were correct in rejecting those approaches. Going underground could have caused "disruption of gravity fed storm drains, potential flooding of underground stations, increased construction impacts…and finally considerable increase in costs ($224.3 million.)"
The judge added that an aerial structure design "would result in creating a large physical barrier bisecting the neighborhood, create construction impacts similar to the trench option and increase costs ($65.9 million) without significant reduction of other impacts."
The project approach that was ultimately selected is better than the alternatives from environmental, efficiency and cost standpoints, the judge found.
"We will finally have an alternative to the awful traffic, and hopefully no more delays," said Darrell Clarke, co-chair of Friends 4 Expo Transit, which supports the Phase 2 plan. "I've only been an advocate for this thing for 21 years."
However, Neighbors for Smart Rail announced it would appeal the ruling and is "confident that the appellate court will review the plain facts of the case and find that the Expo environmental review was fatally flawed and must be corrected."
The organization said in a statement that it "remains dedicated to making sure that key north/south streets such as Overland and Sepulveda are not blocked 24 times per hour, that West L.A. traffic is not edged closer to gridlock by an ill-conceived light rail plan, that children are not put at risk by trains running just feet from their schools and that first responders will not be hampered by blocked arterials in their efforts to save lives and property."
The $930 million first phase of the project, running parallel to the heavily congested 10 Freeway from downtown to Culver City, is scheduled to be completed in early 2012. (An opening of some of the line will take place later this year.) The $1.5 billion second phase, to extend the line to Colorado and 4th Street in Santa Monica by 2015, is expected to begin some construction later this year, after a contract is awarded to build it in coming weeks.
Posted 2/23/11
Los Angeles' Union Station—considered the "last of the great railway stations" in North America—will be bought by the Los Angeles County Metropolitan Transportation Authority for $75 million from its private owner, clearing the way for the fabled facility's expansion.
Metro began negotiating its potential purchase of Union Station last November with owner Catellus Operating Limited Partnership. The deal, expected to be completed in April, includes 38 acres of land and 5.9 million square-feet of entitlements, giving Metro room to expand the site and generate lease revenues from transit operators and businesses. Several stores and restaurants (including Traxx Restaurant) operate out of station's legendary main waiting room. With the purchase of Union Station, Metro adds to its current holdings of the adjacent Metro headquarters and the adjoining Patsaouras Transit Plaza.
Initially approved by voters in 1926 as an alternative to a proposed regional elevated rail system, Union Station finally opened in 1939. World War II kept the station busy as a regional hub for lines such as the Atchison, Topeka and Santa Fe Railway, the Union Pacific and Southern Pacific Railroads. It also serviced the local Pacific Electric and Los Angeles railways. But the rail era would soon pass, giving way to a new age of air travel and the automobile. The Pacific Electric Red Car system was dismantled, and freeways began to increasingly dominate Southern California's transit landscape.
Today, the pendulum has begun to swing back, with a network of new public transit lines in operation or under construction. Once again, Union Station finds itself at the heart of our regional transit network. The station currently serves Amtrak, Metrolink, the Metro Red and Purple subway lines, the Metro Gold Line light rail, L.A. FlyAway bus service to LAX, and many other Metro regional and local municipal bus lines serving the region.
Even if you've never visited Union Station, odds are you've seen it. Partially designed by the father-son architectural team of John and Donald Parkinson (who also designed Los Angeles City Hall), it starred in its own 1950 thriller Union Station. And it had supporting roles in plenty of others, including Blade Runner, Silver Streak, Speed, and Pearl Harbor, not to mention countless TV shows.
.
Posted 2/24/11
Here in L.A., we feel a special bond with the Oscars. And who can blame us for imagining ourselves gliding down the red carpet when this season rolls around?
With the Academy Awards due on Sunday, we thought we'd take a look back at how Los Angeles County fared, show-biz wise, this season – and, just for fun, at how much of the spotlight we got.
So ten films have been nominated for Best Picture. Of those, can you guess how many were shot on location in L.A.?
Well, not counting scenes that were shot at studios here, there were four, says Philip Sokoloski, communications director of FilmL.A., the nonprofit that coordinates film permits throughout the city and county.
Best Los Angeles County Location in a Best Picture
"The Kids Are All Right," the romantic comedy about a lesbian couple, their children, and the children's biological father, had a lot of scenes shot in and around L.A. The father's house is a real house in Echo Park. Scenes in which the daughter goes to college are shot in Eagle Rock on the Occidental College campus. Permits for other location shoots include the Huron Substation in Cypress Park and the Penmar Recreation Center in Venice.
"The Fighter," David O. Russell's New England boxing movie, is set in Massachusetts and was largely shot there. But the permits indicate that several scenes were shot locally. One cites the Pan Pacific Warehouse in L.A.'s Downtown loft district; another gives the address of BASF Corp., an industrial building downtown that's often used as a stand-in for boxing gyms.
"The Social Network"—which shot at such L.A. landmarks as the Hancock Memorial Museum on the USC campus, the Wilshire Ebell Theatre and the old Los Angeles Stock Exchange building for its story of the founding of Facebook—also filmed some of its Silicon Valley scenes at a private home in Altadena on Mendocino Street, records show.
And then there's "Inception," which was all over L.A., from Berth 200H of the Port of Los Angeles to a beach in Palos Verdes. But we like to think the star was the county's own Music Center, where, on a day in mid-October, the backdrop for the futuristic dream movie was the Ahmanson Theatre.
Best Performance in an Economic Indicator
Meanwhile, the good news, according to the Los Angeles County Economic Development Corporation, is that the entertainment industry rebounded last year from a wrenching 2009 throughout Los Angeles County, with about 16,500 more Hollywood jobs and "more motion pictures, television pilots and shows and commercials being filmed."
More on-location filming, too. FilmL.A. recorded a 15% increase in film permits last year. The bad news, as Southern California grapples with a struggling economy and runaway production, is that feature production was less than half of what it was in the mid-1990s. But new state tax credits made a big difference – in fact, FilmL.A. found, they were responsible in 2010 for more than a quarter of L.A.'s local feature film production. And the fourth quarter was especially good.
Posted 2/24/11
Ms. Lewis reapplied for cash assistance for herself and her daughter when her unemployment benefits ran out in 2009.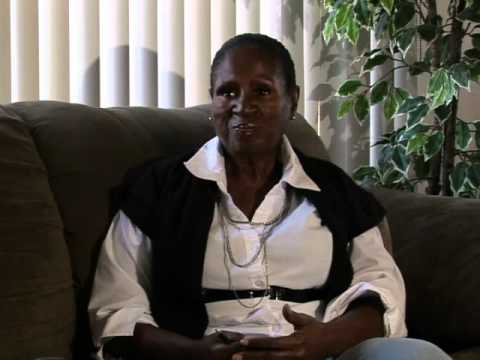 This video was produced by the Los Angeles County Department of Public Social Services.
For more than a quarter-century, Southern California hikers have dreamed of a trail that would offer the mother of all vistas, a 32-mile ocean-view trek between Topanga Canyon and Point Mugu.
Backpackers could, say, hike up the coast, uninterrupted by "No Trespassing" signs and fences, enjoying an ocean breeze while treading through virgin chaparral and fragrant canyons. At night, they could pitch a tent on a Malibu bluff and awaken at dawn with the blue Pacific heaving and roaring below.
The Coastal Slope Trail has been part of the Los Angeles County Trails Master Plan since the early 1980s, with occasional controversy and little progress. But now, bit by bit, the dream is coming true, despite some continuing dust-ups along the way.
Late last year, the California Coastal Commission approved a plan that included the trail, restrooms, parking and the first-ever public camping within the Malibu city limits, approval of which has been challenged by the city and a homeowner's group. And just this month, the Mountains Recreation and Conservation Authority—a joint powers authority that includes the Santa Monica Mountains Conservancy and a number of park districts—announced the acquisition of several pieces of land along the Carbon Canyon section of the proposed trail site.
The acquisitions, north of Malibu, will not only mark the first public open space in Carbon Canyon, but will begin to connect the disparate parks and public lands that now dot the Los Angeles County coastline like gems in a half-made necklace.
So far, the acquisitions represent only eight of the roughly hundred parcels needed to bring the trail to completion. But Paul Edelman, the authority's chief of natural resources and planning, says they're "a significant momentum gainer."
The authority, he says, is poised to acquire up to eight more properties along the trail in 2011, and is hoping to finish most of the Los Angeles County portion within the next couple of years if funding and public support hold steady. To date, Edelman says, 64% of the property needed to accommodate the Slope Trail is in public hands.
The completed trail would link at least 15 distinct public spaces, ranging in size from 15,000 acres to two acres. They include the state parks at Topanga, Malibu Creek, Leo Carrillo and Point Mugu, as well as the City of Malibu's Charmlee Park.
"People like to go to these areas—there's a real pent-up demand," says Edelman. But hiking from one to another is next to impossible. Some spots are fenced off; others are too steep and rugged even if hikers were daring enough to trespass.
But with the generosity of some landowners and the help of Proposition A park and open space funds, the land between them is being appraised, acquired and turned into connective tissue. "This will be the public's chance to access these areas without having to tramp through private property or tick-infested bushes," Edelman says.
The largest gap right now, he said, is a steep, 4-mile stretch between Point Mugu and Leo Carrillo state parks that's owned by the Mansdorf Family Trust, which grew from the storied estate of an aviation entrepreneur. The smallest is a quarter-mile gap between Solstice and Latigo Canyons that for decades was used as a horse trail, but is now fenced. It is owned by the famed U2 lead guitarist The Edge.
No easements have been offered through either of those parcels, Edelman says.
In Carbon Canyon, where much of the land near the trail is too steep, rugged and fire-prone to be useful, Edelman said a dentist from Northern California donated a 2.5-acre parcel of chaparral, and a "former Fortune 500 guy who wanted to remain anonymous" donated the 3-acre plot next door. A third property owner agreed to sell the authority an adjacent easement for $480,000. "The guy was British and had an understanding of the importance of public land," says Edelman. "He had this sense of duty to make sure there was a public right of way."
That stretch of land, he says, will now be the start of a bridge between Tuna Canyon Park and Sweetwater Mesa, where the authority has a 24-acre plot.
"People don't even think about what will be visible when we finish this project," says Edelman. "The beautiful back ridge line of Carbon Canyon. Some of the coolest rock formations in the Santa Monica Mountains—maybe the coolest. Higher up, you'll be able to see all the way to Malibu Point, all the islands. Stunning."
Posted 2/24/11
At 61 years of age, Ms. Griegos is the legal guardian of her six grandchildren.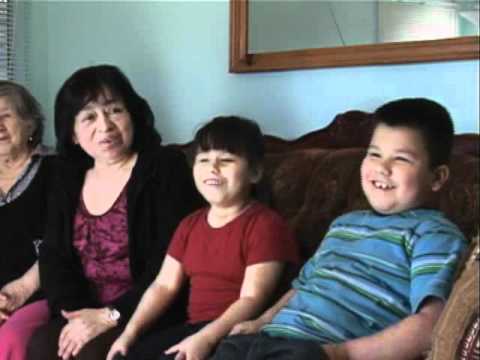 This video was produced by the Los Angeles County Department of Public Social Services.
Motion picture costume designers like to say that if you notice their work, they haven't really done it right. Their goal is to dress their characters as naturally and realistically as possible, with the clothes playing a supporting role. But that doesn't mean the costumes can't have a star turn of their own.
That's exactly what's happening in downtown Los Angeles at the Fashion Institute of Design and Merchandising (FIDM)'s 19th Annual Art of Motion Picture Costume Design exhibit.
Free and open to the public, the FIDM show features the actual costumes from more than 20 of the best and most interesting movies of 2010. Admire the craft and creativity behind some of the year's memorable costumes. It's kid-friendly, too; included are the amazing costumes from Tim Burton's "Alice in Wonderland," among others.
The FIDM galleries are open Tuesday-Saturday from 10:00 a.m. – 4:00 p.m. through April 30, but closed April 22-25 for spring recess.
FIDM is located at 919 South Grand Avenue; here are maps and directions.
And you can arrange a group tour by calling the college at (213) 623-5821 x3367.
Posted 2/24/11
Kids love dirt. So does the Natural History Museum, only they call it "soil." On Sunday, Feb. 27, you and your family can get your hands dirty learning about the science of soil and its inhabitants at "Sustainable Sundays," an educational program that unites the public with local conservation groups.
This week's event, "The Dirt on Soil," runs from 9:30 a.m. to 3:30 p.m. and will include numerous activities and presentations. Among the offerings:
Mycologist Florence Nishida will teach "Mushrooms 101″ from 2 to 3 p.m. She will answer all your burning fungus questions, and will bring a selection of recently collected mushrooms to exhibit. Learn how to discern which mushrooms are safe to eat, and find out about their important role in the ecosystem.
The Museum will screen the appropriately-titled "Dirt! The Movie" at 11 a.m. and 1 p.m. Later in the afternoon, museum staff will introduce you to tortoises and other animals that make their homes in the soil. Microscopes will be arranged for you to compare different types of soil up close.
The program is free with the price of admission, which varies based on age. Adults pay $9, kids aged 5 to 12 pay $6.50, and children under 4 are free. Seniors and students are admitted at the discounted rate of $6.50. The Museum is located at 900 Exposition Boulevard, Los Angeles, 90007.
Posted 2/24/11
A Trafalgar Square karaoke party? A flock of LED-wired sheep cavorting over the hills? A frantic flash-mob dance medley in Liverpool Street station? What's up with those wacky Brits? While Americans go ga-ga over Super Bowl spots, British agencies just seem to knock off brilliant adverts all year 'round as easily as the average punter knocks back a pint at the local.
They're so good, in fact, that for nearly 25 years, the annual best of the best have been a sell-out film program all over the States. This week, they hit Los Angeles, when the County Museum of Art's Bing Theatre presents the 2010 British Television Advertising Awards, a selection of the UK's top spots, chosen by the industry's leading executives and producers from around the world.
It screens Friday, February 25, at 7:30 p.m. at LACMA, located at 5905 Wilshire Blvd. in the Miracle Mile. General admission is $10; LACMA members, seniors over 62 and students with ID can get in for $7. All the info you need to plan your next visit is here.
Posted 2/24/11