Under pressure from the Board of Supervisors, the Los Angeles County Sheriff's Department has begun exploring ways to track the progress and conduct of more than 2,000 deputies whose background screenings have been called into question by an oversight agency.
The Office of Independent Review concluded in a February report that the department, in a rush to beef up its ranks, did not vigorously vet a number of recruits with histories that in the past would have likely led to their prompt rejection. The department, according to the OIR, had begun applying less rigid standards, moving towards a "holistic" view of an applicant's background.

Among other things, the OIR found recruits who had been rejected by other law enforcement agencies, had substance abuse issues and had failed to fully disclose previous brushes with the law. One recruit was discovered to be closely associated with gang members.
In an earlier report, the OIR revealed that Sheriff academy instructors were giving test answers to some trainees and allowing them to retake exams in violation of Peace Officers Standards and Training requirements.
In response to these disclosures, Supervisor Zev Yaroslavsky introduced a motion at the board's March 3 session that called on the OIR and Sheriff's Department to jointly create a system to monitor for five years deputies hired during this period and to provide additional training when needed. The motion, unanimously approved by the board, also asked the OIR to produce annual status reports on these monitoring and training efforts.
"While it is important to ensure future improvement of the hiring process," Yaroslavsky said in his motion, "it is also crucial for the Sheriff's Department to monitor deputies ushered into the department during this rapid acceleration of hiring. In this way, we can help ensure that neither the department's high standards nor the public's confidence will be undermined."
On April 1, 2008, the Board of Supervisors approved Supervisor Yaroslavsky's request to authorize $200,000 in Third District discretionary funding for the "Daniel's Village" renovation project located at 2624 Santa Monica Blvd. in Santa Monica. The project sponsor, Step Up on Second, is a well-established Westside community-based non-profit agency assisting the homeless. When completed, Daniel's Village will offer eight new units of permanent supportive housing for youth aged 18-28, who are aging out of the foster-care system and are homeless or at risk of homelessness. See Daniel report for full details.
At the end of its first year, the County-wide Prevention Initiative Demonstration Project (PIDP) is picking up steam and showing success in key areas. PIDP is a $5-million child abuse and neglect prevention project begun in February 2008, led by community-based providers in the county's eight regional planning areas.
As part of the Demonstration Project, the agencies are creating local networks of family support and connecting families to services in a proactive effort to reduce and prevent child abuse and neglect before it occurs – not reactively, after the children have already been endangered or hurt.
While the rates of children in foster care in Los Angeles County continue to decline, experts worry that the gains could be short-lived if the ongoing and increasingly serious economic downturn adds to families' stress and boosts the risk of potential abuse, neglect and violence.
Supervisor Yaroslavsky, an early proponent of the preventive approach, sounded a cautiously hopeful note: "This cutting-edge pilot program offers an innovative and progressive approach to preventing child abuse and neglect. We are committed to do things differently—even new and untested things—to improve upon the way we work with and serve our kids and families."
Over the next six months, program managers hope to build the resource network and expand the involvement of parents and community residents. The demonstration project is set to conclude in June 2009.
In February, President Obama unveiled a $3.55 trillion budget for Fiscal Year 2010, beginning on October 1, 2009. In his remarks, he called the budget "an honest accounting" of costs being racked up that for too long had remained hidden off the books.
The previous week, Obama signed a far-reaching $787 billion federal stimulus package intended to help jolt the American economy out of its most serious downturn since the Great Depression. The compromise measure is officially titled the American Recovery and Reinvestment Act of 2009. Read the full legislative text here; see the White House ARRA page for full background, including state-specific details, tables and fact sheets on the 407-page package.
County budget officials are still analyzing the potential net county impact of the budget actions, but Supervisor Yaroslavsky cited the following Third District projects as special priorities for federal stimulus package funding:
• Tujunga Wash Restoration – Add an additional ¾ mile to the existing mile-long stream course alongside Tujunga wash, offering environmental enhancement, water-quality improvement and recreational opportunities in the right-of-way adjacent to the County's Tujunga Wash Flood Control Channel
• L.A. River Headwaters – Transform a flood control maintenance road into a greenway with native landscaping and a walking trail, and plant rain gardens to capture, treat and recharge storm water runoff
• Strathern Pit Multi-Use Project – Capture and use wetlands to treat storm water runoff in 2.2. sq. mi. of the Sun Valley Watershed on a 46-acre site incorporating open space, habitat and recreation purposes, and recharge the underground aquifer beneath the Sun Valley Park recharge basins
The County's Department of Consumer Affairs is offering a variety of information and assistance for homeowners and property owners at risk of foreclosure, trying to refinance, or otherwise navigate through today's economic turbulence.
According to DCA figures, foreclosures jumped from 14,000 homeowners in 2007 to 40,000 in 2008, a 186% increase. Rising unemployment, expiring foreclosure moratoriums and falling property values can be expected to impact many more homeowners in 2009.
DCA can help homeowners save their homes through a comprehensive program that involves counseling, loan modifications, complaint investigations, and community outreach. For more detailed information on the range of homeowner-related programs and services DCA offers, visit the Department's homes page.
Supervisor Yaroslavsky and his Metro Board colleagues have moved quickly to line up priority transit projects in the Southland eligible for federal funding under the American Recovery and Reinvestment Act of 2009 (ARRA), the economic stimulus bill recently signed by President Obama.
Transit officials estimate that Los Angeles can expect an infusion of federal cash totaling between $800 million and $1 billion for desperately needed road and rail transit improvements throughout the County. Adding some urgency to the process is a "use it or lose it" provision that gives the County 120 days to commit at least 50% of the highway project funding, and 180 days to commit at least 50% of public transit and grant program funding.
Yaroslavsky cited a number of key projects of particular interest and benefit to the Third District.
Bus Operations
The stimulus package contains $301 million for bus operations and capital investment in the County's regional and municipal bus systems, with the lion's share – 73.3%, or some $219.5 million – designated for Metro's Countywide bus system. Metro plans to purchase 100 new buses, rebuild and repair 200 more in its aging fleet and contract for 53 additional buses to expand various bus line services around the County.
Rail Modernization
Rail passengers can also look forward to some improvements. Riders on the downtown-to-Long Beach Blue Line light rail will benefit from a $14 million traction power substation project to upgrade the electrical system and ensure continued reliable operation of the Blue Line, which first opened in July 1990. The Metro Board also approved a $5.3 million project to begin work on a train collision avoidance system after several devastating Metrolink commuter train crashes in recent years.
Road Work
The Federal Highway Administration (FHWA) has officially released $26.7 billion in ARRA highway formula funding appropriated for the states, with California's share at $2.57 billion. The County of Los Angeles is due to receive at least $215 million allocated by population, and possibly up to $315 million with additional state legislation, funding hundreds of local projects throughout the County's 88 cities. Another $200 million has been set aside for an ambitious HOV lane project on the northbound San Diego Freeway (I-405) between the Santa Monica (I-10) and the Ventura Freeways (I-101).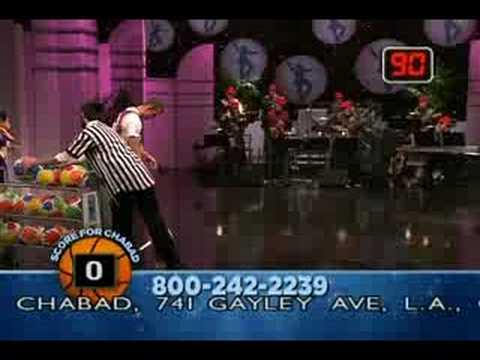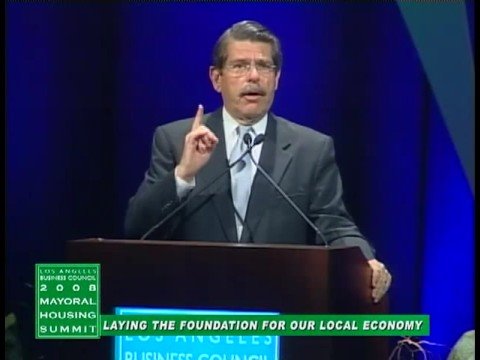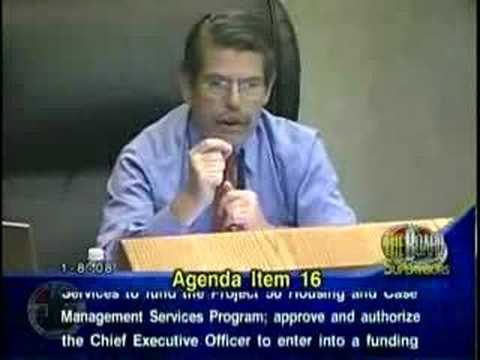 Supervisor Zev Yaroslavsky speaks at the Los Angeles County Board of Supervisors meeting on January 8, 2008 on Project 50, an ambitious demonstration project to house the 50 most vulnerable residents of the streets of Skid Row in downtown Los Angeles. Yaroslavsky has championed the plan, modeled after a highly successful program to reduce homelessness in New York City, particularly in Times Square. That effort was coordinated by Common Ground, a New York social services agency, which was hired to shepherd the Los Angeles project through to completion.